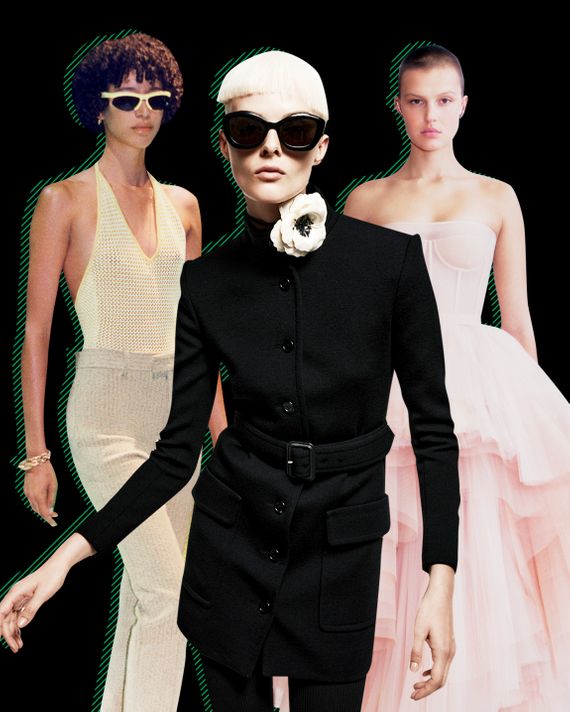 Left to right: Bottega Veneta, Saint Laurent, Alexander McQueen
Photo: Courtesy of Bottega Veneta, Saint Laurent, Alexander McQueen
Much of the imagery of the spring 2021 fashion season has been almost as unsettling as the pandemic itself: models traipsing across a vast desert (in high heels, no less) or around the track of an empty stadium. Sometimes an image could unintentionally reinforce our sense of isolation: Kristen Stewart, for example, sitting completely alone in the cold splendor of a French château for a Chanel show.
Then there's the film released today by the Alexander McQueen company, surely the last fashion presentation of this extraordinary year. Made by Jonathan Glazer, whose credits include feature films (Under the Skin) as well as commercials for brands like Apple and Volkswagen, the video shows a group of models along the bank of the Thames in London — making out under a bridge, lounging on blankets, as if (but hardly) on a holiday. In one scene, a model is doing the mud version of a snow angel in her pink party dress.
The city of Turner, Dickens, Wilde, Churchill, Quant — McQueen! — is absolutely still. Not a barge, not a red double-decker in sight. I'm not sure how Glazer achieved the effect, but it made London and its famous skyline and river the real star. Sarah Burton, the brand's creative director, hinted as much in her brief press note. It began, "Back to London, coming home." In recent seasons, she has been sourcing ideas in places like the Shetland Islands, Ireland, and Great Dixter, an English estate known for its gardens.
The paradox of the most successful collections for spring is that, while they acknowledge our year of lockdown in imagery, they don't reflect it in design. There's a sense of empathy and comfort — I think of Nadège Vanhée-Cybulski's chic clogs and easygoing pantsuits for Hermès, the restraint of Prada, the self-assurance of Christopher John Rogers — but ultimately, the work aims at a place in the future beyond the pandemic. In short, it's about forward-thinking design.
I would put McQueen into that category as well as Saint Laurent and Bottega Veneta, which will close out the season. Burton jettisoned the embellishment of the past few years, the flowers and such, and concentrated on line and form. That pink dress in the mud? It's composed of layers of pale-pink tulle that Burton sliced into, punk-style, but the kicker is the bodice. It's as plain and light as the inner corset of a couture gown. As a foundation garment, it is inherently sexy and glamorous. Why spoil it with frills?
Behind the clothes seemed to be the thought that, come spring and summer, people will want to be out. The Turner-like view Glazer evoked will again be bustling. That's probably why Burton kept the tailoring precise yet simplified and used a range of everyday materials including wool and washed denim. A standout look in the collection was an off-white leather trench with wide lapels worn over a floaty, off-white skirt. The outfit was made for being out, for moving, but probably only the wearer would know it was leather since it looked as light as fabric.
It was Anthony Vaccarello of Saint Laurent who took his models to the desert. I guess the dunes and the big open sky were meant to symbolize founder Yves Saint Laurent's personal history in North Africa, just as the baby-doll dresses and a new version of his famous Saharienne tunic were meant to connect with his formidable mid-1960s legacy.
But I saw something else in Vaccarello's lean, mostly stripped-down shapes. I haven't always been a fan of his Saint Laurent: too hot-body sexy, too unthinking. But this collection felt fresh and intelligent, in part because it seemed (to me) to make a connection to Yves Saint Laurent's spiritual predecessor Coco Chanel — those close-fitting black suits with camellia chokers — and in part because Vaccarello carefully mined the '60s references and had something new to say, primarily through the supersharp silhouette. I adore that silhouette. It's vigorous, a cool envelope, and it makes you want to shed the feelings, the bad habits of the terrible year.
Daniel Lee was also in an interesting groove at Bottega Veneta. Indeed, this was probably his most confident collection since he took over the Milan-based label. Why? Because he drew on his talent for knitwear yet made sure the results looked at once boldly original and luxurious. That's a tough balance. The heavy-gauge minidresses (some with a girlish knitted blouse) and the suit separates with broken, jiggly stripes were outstanding, supported by his almost kitschy palette of kelly green, lime, royal blue, jade, and aqua.
And it's a style that leaps into spring with that trim, modernist-hued yet cozy silhouette.
More From Spring-Summer 2021
See All