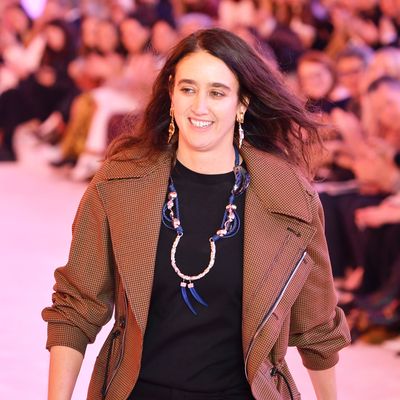 Photo: Pascal Le Segretain/Getty Images
On Thursday morning, fashion designer Natacha Ramsay-Levi announced that she was stepping down from her role as creative director at Chloé, effective immediately.
"Over the last months of health, social, and economic turmoil, I have thought about the changes I want to see in our industry and how to better align them with my own creative, intellectual, and emotional values," Ramsay-Levi said in a short and to-the-point press release. "It is this reflection that makes me consider my future differently and desire to pursue new opportunities."
Ramsay-Levi joined Chloé in 2017 from Louis Vuitton, where she served as creative director of women's ready-to-wear since 2013. Her last show for the brand was in Paris this October, but she made no hint of leaving. When Cathy Horyn spoke to her backstage in February, just before the coronavirus changed everything, she said, "I love this house and I think we have so much to say." Horyn described the collection as "excellent" and a "big leap forward."
Chloé CEO Riccardo Bellini wrote that Ramsay-Levi brought the same "intelligence and sense of mission" to the brand as its founder, Gaby Aghion. "She is an important member of that proud tradition of women who have designed at Chloé," he continued, referencing her predecessors such as Stella McCartney, Phoebe Philo, and Clare Waight Keller. Philo, of course, left fashion in 2017, and Waight Keller announced her departure from Givenchy earlier this year. Whether the French house will continue that tradition is unclear.
Chloé has not yet named Ramsay-Levi's' successor, but will "in due course."