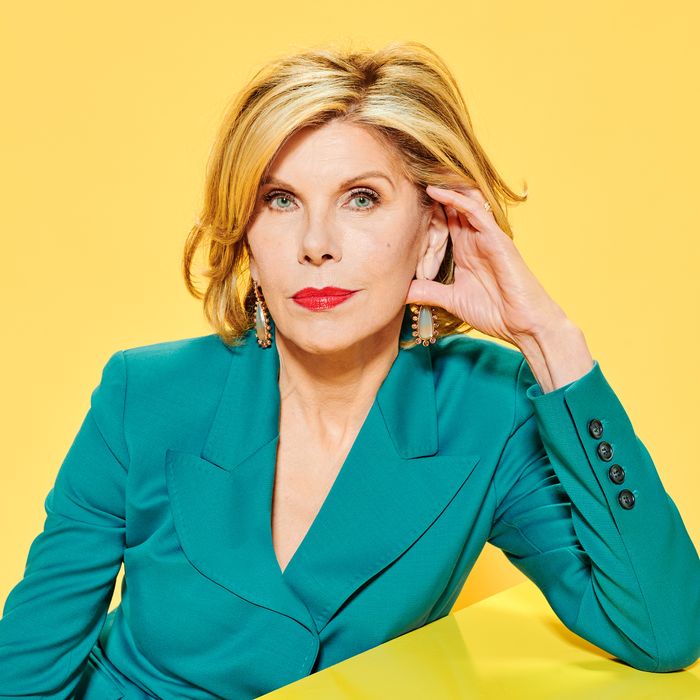 Photo: Cara Robbins/ Contour for Getty Images
Who doesn't love Christine Baranski? It's easy to get excited about everything the 68-year-old actress does, and people do: True Baranski fans know and love the Twitter account dedicated to her high kicks, handshakes, and everything in between. So it's understandable that the Baranski corner of the internet lost its collective shit when in April the trio of Meryl Streep, Audra McDonald, and Christine Baranski sang "Ladies Who Lunch" from Stephen Sondheim's Company, for a birthday celebration for the musical legend. They were swathed in terry-cloth robes with cocktails in hand, a rare delightful moment in 2020.
The beloved actress has given us legendary performances for decades, but Baranski has also been rightfully recognized for her more recent work, such as portraying Diane Lockhart in The Good Wife and The Good Fight and Tanya in Mamma Mia! (twice). She brings energy and light to everything she does, including our Zoom: She's wearing very cool gold aviator glasses and is backed by tasteful yellow and white striped wallpaper.
In November, Baranski teamed up with another legend — Dolly Parton — for the Netflix holiday film Christmas on the Square, a fever dream of pure holiday magic. It's essentially the plot of A Christmas Carol, but with original music from Parton, directed by Debbie Allen, and co-starring Jenifer Lewis. It's a perfect '90s Christmas movie throwback: kinda cheesy, but so fun and joyful to watch. The Cut talked to Baranski about working with Parton, whether we'll get a Mamma Mia 3, and what it's like having such a devoted fan base.
For Christmas in the Square, what was it like working with thee Dolly Parton? Was she simply a dream to be around? 
The privilege of working with Dolly was a good dream come true. My management said, Dolly's a big fan and wants you to be in this. I almost didn't need to read the script — acting with Dolly Parton and being her girlfriend for a little while, what's the downside? Everybody says, Is she really that nice? She's beyond that, because you realize how hard she works, and how much she gives of herself, because this was not her only project. I think she works in the middle of the night writing songs and running Dollywood.
Speaking of musicals, can we expect you in another musical anytime soon — specifically, when are we getting a Mamma Mia 3? 
It really takes a lot to get all those actors together. But if ever there was a movie that could — Julie Walters [who plays Rosie] has said it's the most fun she's had. And I don't know if Bjorn and Benny [Ulvaeus and Andersson, founders of ABBA] would be up for unearthing even more ABBA songs. But I think I have a cool idea. We don't do a whole musical, but we all gather on that island, and we just talk about our experiences and we sing songs and duets. We do it loosey-goosey and release it online. We could make Mamma Mia: The Reunion Party.
I got to watch Mamma Mia! over the summer at a drive-in and everyone was having such a blast. 
I love that I've been in things that have given people so much joy. Mamma Mia! is just oxygen for people. I hope people are watching it and singing ABBA. And that's what I hope for the Dolly musical — that people would just be like, I remember what it feels like to feel joy and to feel silly and to feel happy to be alive with my loved ones, you know?
I mean, I think you bring so much joy to people and you have such a devoted fan base who loves you and your work so much. 
I had to sign some papers recently and go to a high-rise to meet my lawyer. And I was just was in a funk. The man who had to take my ID to enter the building was looking at my driver's license and he said, Christine Baranski, Oh, I love her. Oh my God. You're Christine Baranski. Never in a million years did I think that he would even know who I was — I had a full mask and glasses on. He went on and on about all the things that he had seen me in, and he made me feel so happy. I've had a really long career, and I think it's incredible that it's reached so many people. I've got a wide spread of people, of all ages, who feel my work appeals to their time of life. And that's been great.
Have you heard about the Christine Doing Things Twitter account?
Every so often, my daughter sends something and I go, What's this come from? And she'll say, Mom, you have all these fans.
Well, it's basically an account that celebrates you in every way possible. Which, speaking of, there's a lot of debate about who is the best Hollywood Chris — between Chris Evans, Pine, Pratt, and Hemsworth. I think you are probably the best Hollywood Chris. 
As long as that doesn't mean I'm some strange person!
I think it means that you're just the most delightful one. 
Well, if I am a Hollywood Chris — before I got to New York to go to drama school, people called me Chris. I chose Christine once I got here. If people call me Chris, it makes me feel very warm inside, because it's my childhood.
I think that maybe it's fate. You are supposed to be the best Hollywood Chris. 
I'll take that!