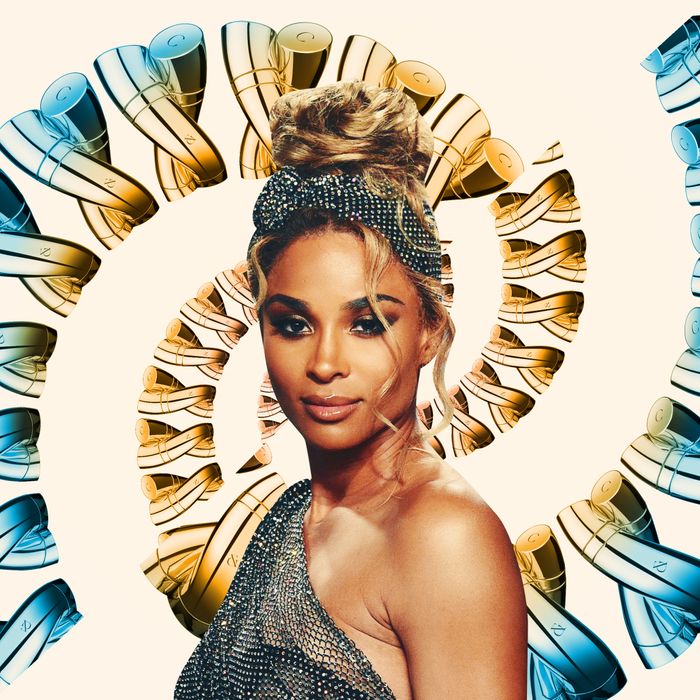 Ciara
Photo: Getty Images
Scientific studies confirm that, of all the senses, smell offers the best recall. In "Scent Memories," the Cut asks people about the scents they associate with different times in their lives.
Next up is Grammy-winning singer-songwriter Ciara. Last month, she and her husband, Russell Wilson, launched the R&C Fragrance Duo, two sexy scents that come as one canoodling couple. Ciara's C scent features notes of pink peppercorn, peony, sandalwood, and vanilla, while the NFL quarterback's R has notes of black tea, pear blossom, patchouli, and musk. A portion of all proceeds from the sale of the fragrances will benefit the couple's ​Why Not You Foundation​, a nonprofit dedicated to education, children's health, and fighting poverty. The Cut recently caught up with Ciara to talk about the scents of Skittles, Seattle, and sour milk.
My first scent memory: It's a two-in-one. My name actually came from a fragrance by Revlon named Ciara. Just before delivering me, my mom was given this bottle by my dad. She had different names on her list, but she said, "I like that name. I'm going to go with this." The other memory is going over to my grandmother's growing up and playing in her fragrance dresser, I guess you could call it. She had a whole section specifically for scents. I remember being like a kid in a candy shop, wanting to play with every fragrance she had, experimenting, and basically trying to be like her. She was always making sure that she not only looked good but that she had a signature scent as well.
Love smells like: An all-enveloping smell that hugs you, one of those smells that feels like you can literally walk into it and it immediately falls onto the body. It smells like being in my husband's arms, and feeling like his arms are around me at all times. Love also smells like that sweet innocence my kids have, and how when they hug me, they really hold on.
Heartbreak or loss smells like: Nothing — like having a stuffy nose. You kind of lose all your senses in those moments, and it's hard to smell anything at all.
Friendship smells like: It depends on the day, but it can smell like popcorn, pizza, and cheeseburgers. Or Sour Patch Kids and Starbursts. All the good stuff, good foods, best desserts — things that represent the good times, hanging out, and being on the up and up. In terms of fragrances, friendship would be a lasting, durable one that holds up to everything.
Regret smells like: Something funky. It's a smell you want to repel; it makes you turn your nose up. It's like sour milk.
Success smells like: Money! Nah, I'm just playing. Kidding, but not kidding. I think success smells like Skittles, like a sweet rainbow. It's the best smell.
The worst smell is: Dog poop. I was going to say baby diaper, but no — dog poop has the baby diaper beat.
My ideal vacation smells like: A fresh, tropical ocean breeze.
My home smells like: To me, it smells like love. It smells like joy. More literally, it smells like good home-cooked meals and beautiful flowers everywhere. I always love having roses and peonies — that may be my favorite. There's nothing like a beautiful bouquet of peonies and white roses. We have a good amount of flowers and candles spread throughout the house. And if you open up the windows here in Seattle, you get this really, really good fresh air that's really crisp added into the mix.
The first thing I smell in the morning and the last thing I smell before I go to bed: My honey. My husband. First thing in the morning, and my honey again at night. He has a great natural smell, and obviously, seriously, though, he wears the R fragrance, the R to my C, so he always goes to bed smelling good.
A scent or smell that I love that others usually don't: Vinegar. I also like the smell of bleach, which is kind of weird thinking about it now. I like the smell of gasoline as well. I don't know, there's just something about it …
I smell like: I think I smell like a fresh shower mixed with pink and red roses and peonies. Soft yet powerful at the same time.