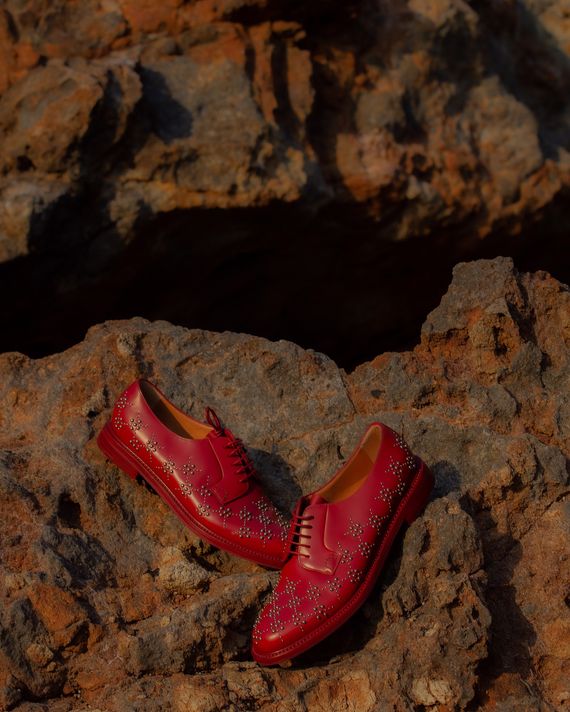 Brand collaborations are so commonplace these days it's hard to know whether to take them seriously. McDonalds and Travis Scott? Sure. Slack and Cole Haan? Why not! But every so often, a collaboration comes along that's so deeply right, you can feel it in your bones, like, Ah, yes, this was meant to be. One such meeting of the minds is Comme des Garçons x Noir Kei Ninomiya x Church's.
It's actually a three-way collaboration — a throuple, if you will. Kei Ninomiya is a Japanese designer who started as a pattern-maker for Rei Kawakubo at Comme des Garçons, and then eventually went on to have his own namesake line, Noir Kei Ninomiya, under the brand's umbrella. His work often feels like an art project more than anything else: He avoids sewing whenever possible, binding garments with safety pins, for example, which gives them a sort of punk attitude.
Now, you might be asking: How does Church's, a 148-year-old English footwear brand, fit into this equation? Well, for starters, the Brits basically invented punk. So to see a classic Derby shoe covered in studs and safety pins isn't so farfetched. The brand was also bought by Prada in 1999, so the high-fashion connection is already there. Above all, though, both Noir Kei Ninomiya and Church's value craftsmanship; they care about how shoes and clothes are put together, piece by piece. So it's no wonder that when they put their heads together, the results were exquisite.
I want to dance in these shoes so badly, but that would mean beating them up, which seems wrong. Perhaps its best to just imagine a punk-rock playlist for them, instead.