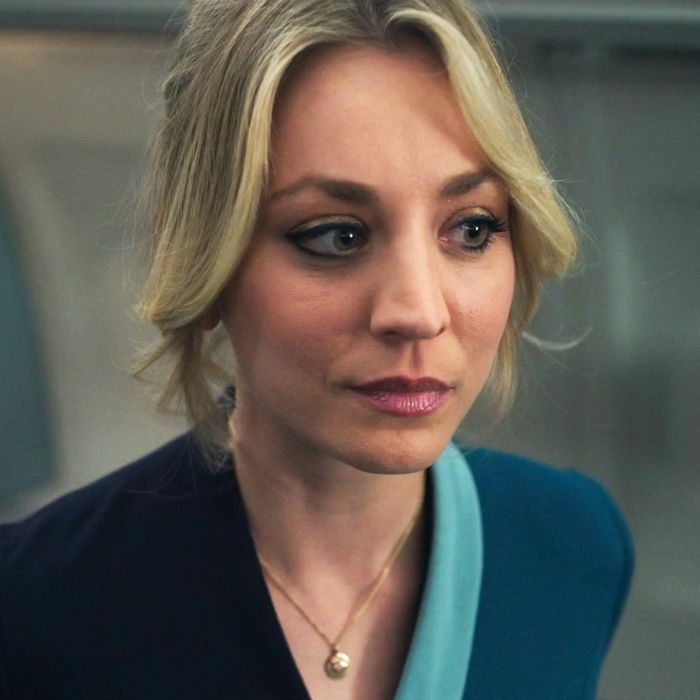 Kaley Cuoco in
The Flight Attendant
.
Photo: HBO
A couple of months ago, I embarked on the journey of growing out my bangs. I loved my fringe, but I wasn't great at trimming it on my own. Going to salons every month or so wasn't really an option anymore, so it seemed like a good time to return to a forehead-forward lifestyle.
The road ahead looked long, grueling, lonely. It would take months for my hair to traverse the six or so inches from my eyebrows to the bottom of my chin. Working from home meant that fewer people would see me during the awkward, swoopy period of growing out bangs where I'd have the same hair as My Chemical Romance's Gerard Way in 2008, but I was still a long way off from my end goal: having the same hair as Gerard Way in 2019.
I had come to terms with the fact that I had nothing to look forward to, hair-wise, for a very long time, when I sat down to watch HBO's I Hate Suzie, and had an epiphany. I Hate Suzie is about an actress whose life starts to fall apart after her phone is hacked and explicit photos of her are leaked online. The plot isn't really relevant to this post; what is relevant to this post is that the show's protagonist, Suzie, played by Billie Piper, has incredible hair. It's platinum blonde, usually in some level of disarray, and is fringed at the front with sweet, soft curtain bangs that fell below her cheekbones, and a little above her jaw. They were long enough to be pulled back into a high ponytail, but short enough to frame her face when they were down. Pushing my own heavy valance of hair aside, I figured I only had about two inches to go before I'd have my own long, groovy, '70s-esque bangs. Finally, a bright spot in my growing-out journey.
The next day, more signs. I watched Happiest Season, the Kristen Stewart lesbian holiday rom-com, which was a miss in almost every conceivable way, except for Aubrey Plaza and her perfect, cheek-length fringe. Then, there was The Flight Attendant, in which Kaley Cuoco has the long, wavy bangs of a modern Farrah Fawcett. Did I watch too much TV this weekend? Yes. But clearly the universe was sending me a message, and that message was that my short little Mackenzie Davis bangs were in my past, and long, luxurious Aubrey Plaza bangs were my future.
The long, wispy bang resurgence has been brewing for some time now. As Emily Heser, a stylist at Cutler Salon in New York City, told Glamour back in February 2020: "Curtain bangs are the gateway to bangs, because they're super versatile. They're long enough to grow out or pin back if you want, but they can also be cut into a shorter look." Kate Middleton debuted her own long bangs back in March. And in September, Allure reported that there had been a massive spike in curtain-bangs pins on Pinterest, presumably spurred by people locked inside and desperate to change up their look, but not ready to go full Emma Watson baby bangs yet.
Whether you're in the process of growing out your bangs, or wanting to test out some more manageable fringes before you commit to something shorter, curtain bangs are a perfect middle ground, a beautiful, in-between world where you don't have to choose between bangs and no bangs. You can have it both ways! You can have it all! And if you try them and hate them, well … hair grows, and you'll be back to a "Gerard Way in 2019" look in no time.