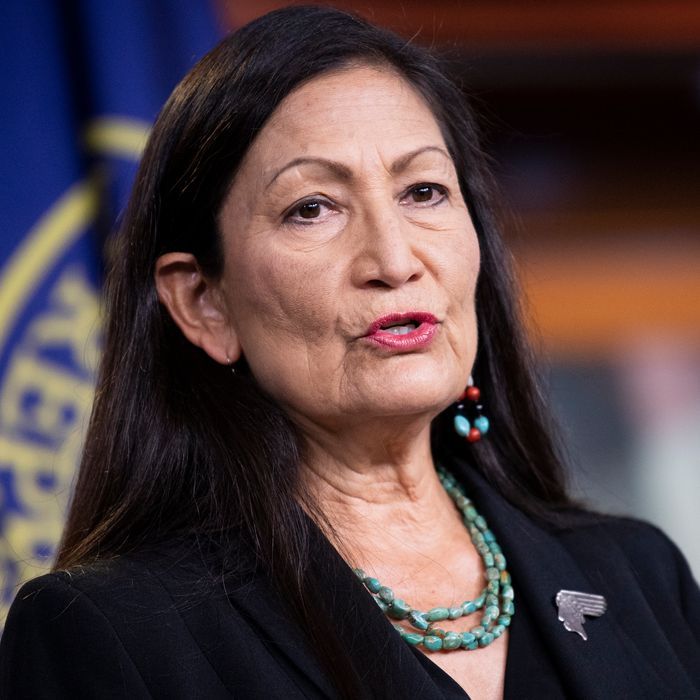 New Mexico representative Deb Haaland.
Photo: CQ-Roll Call, Inc via Getty Imag
In making appointments to his new administration, President-elect Joe Biden intends to build "a Cabinet of firsts," as he put it this week: "The most representative of any Cabinet in American history." So far, many of his nominees have turned out to be officials rolled over from the Obama administration, but some have been legitimately historic. His reported selection of New Mexico representative Deb Haaland as Secretary of the Interior is one very notable example — if the Senate confirms her nomination, she would be the first Native American official to lead a department whose purview includes the oversight of tribal lands, and the first Native Cabinet secretary ever.
"This is a big deal," Representative Alexandria Ocasio-Cortez noted in a tweet. "A visionary Native woman in charge of federal lands. Unequivocally progressive. Green New Deal champion. Exquisitely experienced. @RepDebHaaland sister, you are going to do such a great job. I am so proud of you and the movement."
A member of the Laguna Pueblo tribe, Haaland has served one term in the U.S. House of Representatives and was just elected to her second. During her time in Congress, she has been vice chair of the House Natural Resources Committee, and before that, she was New Mexico's Democratic Party chair — the first Indigenous woman elected to the post — and participated in the Standing Rock protests against the Dakota Access Pipeline.
But Haaland also represents "a big gas and oil state," as she recently put it to the Washington Post, and has consistently championed renewable energy over the Trump administration's expanded reliance on fossil fuels and drilling. As Secretary of the Interior, she would oversee roughly 500 million acres of federal land, and play a key role in realizing Biden's campaign promise to ban "new oil and gas permitting on public lands and waters." She would also preside over 109 million-plus acres of wilderness, 422 national park sites, and national monuments, and wildlife preserves that protect about 1,000 endangered species, according to the Post.
And after four years in which the Trump administration both actively neglected the 574 Indian Nations in the United States and exploited tribal lands to push environmentally disastrous policies — in the middle of a pandemic that has disproportionately impacted American Indian and Native communities — Haaland's appointment would be particularly significant. As the Post points out, the Department of the Interior has historically presided over the removal of Native people from their land. Putting Haaland in charge would "begin to rewrite a legacy in this country," Representative Raúl M. Grijalva, chair of the House Natural Resources Committee and a member of the informal coalition pushing for Haaland's appointment, told the outlet. "And I think that's good given everything else that's going on around us."
"With the growing land back movement that exists in Indigenous communities, where we're calling for many public lands to be returned back into Indian hands, it'd be great to have Deb there, recognizing that it is movements like ours that also have to keep people like her in those positions accountable," Nick Tilsen, CEO of NDN Collective and a citizen of the Oglala Lakota Nation in South Dakota, told Vox. "That purely representation isn't always power, but representation that is accountable to its people — that's power."