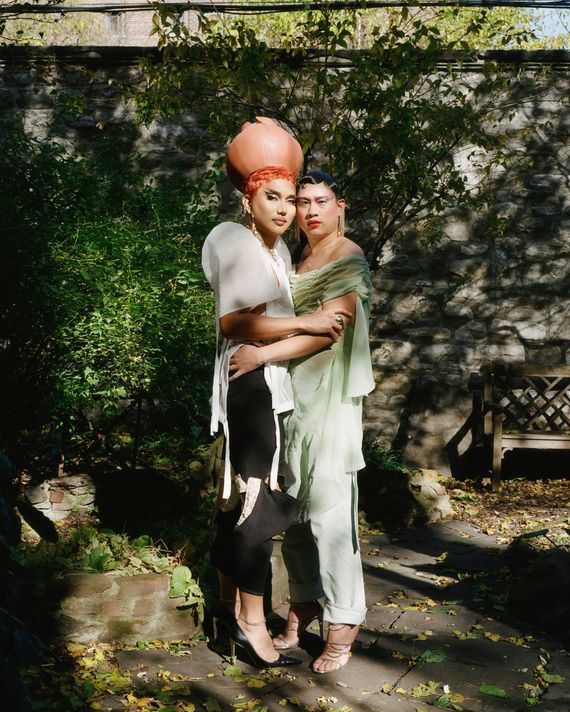 Keith Lafuente is making the case that anime is not only entertainment, but also art and fashion. Whether he's painting cartoons on his face for a drag performance or staging an animated runway show on Instagram, his work combines fantasy, identity, and queer community. "Anime makes me feel like I have powers, and that I'm strong no matter what anyone else says," Lafuente told the Cut. "It taught me that as long as I fought hard, I could reach any of my goals."
Lafuente received a BFA at the Carnegie Mellon School of Art, with a concentration in sculpture. Since the program encouraged conceptual development over technical execution, he had the freedom to make clothes using his own self-taught skills, from pattern-making to sewing. "All of my work revolved around the body and identity because that's when I came out and was figuring out what it means to be openly gay," Lafuente recalled. "I was in a stage of discovery, and clothing was a good space to play with and question social constructs of identity. It just felt natural."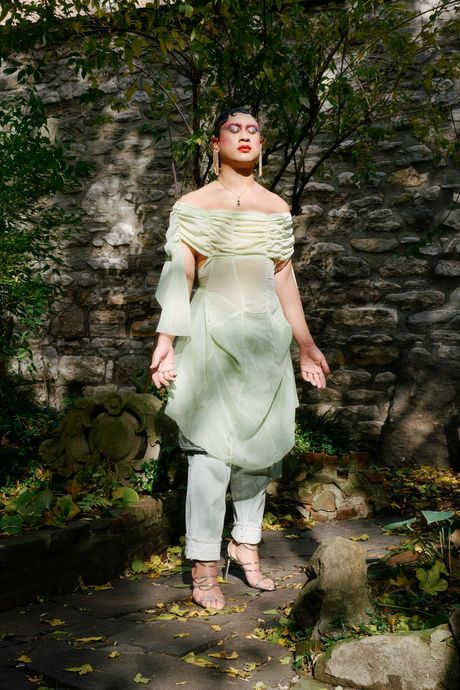 Lafuente moved to New York in 2015. He says that if college was about figuring out his "gayness," then this period was when he began to consider his "Asian-ness." Most of his childhood was spent in a predominantly white suburban town, void of other Asian people. But in New York, he took an internship at the Filipino American Museum and began working on his very first collection — a mixture of traditional Filipino wear and the preppy style of the town he was raised in. To present it, he recreated an Abercrombie and Fitch commercial, with Filipino models frolicking on the beach. "Abercrombie and Fitch was such a gay fantasy growing up," he giggled. "But I wanted to make my own gay fantasy with people that looked like me."
A couple of years later, Lafuente also became Mahal Kita, an experimental and subversive drag persona. He says that performance made sense with everything he'd been making — art, fashion, and fantasy. "It's about empowering myself through femininity in my own way, including makeup and clothing. Things that I'd make for a collection trickled into my drag and vice versa." Instead of traditional makeup, he creates art on his face, from colorful abstract patterns to illustrations of flowers, insects, and anime.
It wasn't until this chapter of life that he found the community of queer Asians who've inspired his work ever since. "What's really important about drag is that it's how I found Bubble_T, a community that I felt like I really belonged to," he said. "They've helped me find more of a purpose for my clothing outside of myself. And they're the same people who I cast in my fashion shows. I want to provide opportunities and space for other people to shine."
As communal as his work is, though, it's still deeply personal. His spring/summer 2020 collection was a response to a year of loss and change. "My aunt had passed away, I went through a breakup with my first serious relationship, and my mom was diagnosed with breast cancer," he said. "All those things made me need some sort of security, so I turned to nostalgic things like my mom's embroidered denim shirts and the hundreds of clocks, souvenirs, and tchotchkes that filled my aunt and uncle's house, where we'd go for every holiday." The resulting collection was about creating a paradise filled with these objects — key chains dangling from color-blocked skirts, cartoon embroidery on denim crop tops with traditional Filipino sleeves, and a chest plate made with hundreds of tiny shells with a working clock built into it. "My 'main character' was dealing with an internal conflict: preserve these things, or move forward? Of course, it's also about my Filipino heritage and feeling like a tourist in my own homeland, with its complicated history of colonialism."
Still seeking solace and longing for more intimacy in his life, Lafuente turned to anime, specifically the subgenre called boy's love, which features homoerotic relationships between male characters. "I asked myself, What sentimental items are left after someone important leaves?" Lafuente said. The result was his first buyable capsule collection: colorfully airbrushed illustrations of anime couples on T-shirts, tank tops, and detachable terno sleeves. "For a long time I felt like an imposter, which made me too insecure to sell my clothes. But I think now I've become more secure and confident with what I make." The capsule collection sold out on Instagram, where supportive community members and interested customers slid into his DMs.
Like many, he used his free time during the pandemic to explore new things. His spring/summer 2021 presentation was all 3-D animation in collaboration with artist friend Joanna Lin, as a way to freely experiment without the constraints of money and materials. The clothing was inspired by Japanese archery gear and Beijing opera costumes, but with more sheer fabrics and an added anime twist. The show was a success, but LaFuente sees it as just the beginning. In the future, he wants to expand his 3-D presentations into a short film with a narrative.
Sure, Lafuente has interned at a fashion brand, presented collections, and exhibited his work in art galleries, but don't ask him whether he sees himself as more of an artist or a fashion designer. "I don't have to choose between either world," he said. "I'm all about just forging my own path. And it will all make sense to me as I'm doing it. I trust myself to make the right decisions." Down the road, his dream is to create his own sort of "cinematic universe," where all of the collections connect with recurring characters, but right now, the biggest thing for him is telling stories, uplifting Asian voices, and supporting his community.