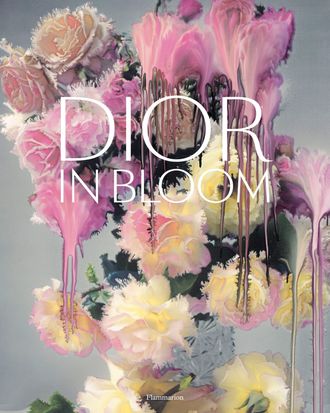 More than a century before Meryl Streep made spring florals a sick burn, the house of Dior really was doing groundbreaking work with them. As Christian Dior famously said, "After woman, flowers are the most lovely thing God has given the world." Dior grew up cultivating grand gardens with his mother at his childhood home of Granville, in Normandy, and described himself as happiest among flower beds and soil.
Dior's new coffee-table book, In Bloom, examines the endless inspiration that the designer has found in the world of flowers. In the 1940s, Dior called his "New Look" silhouette, which featured cinched-in waists, "Flower women." Lily of the valley (Dior's rumored favorite flower) appeared as an embroidered embellishment on some of the brand's earliest creations, like an organdy white evening dress from the 1957 haute couture spring-summer collection. Dior's subsequent creative leads have also embraced botanicals in their work. In 2012, Raf Simons made his haute couture debut with a floral-heavy collection, presented in front of walls made of blue delphiniums, white orchids, roses, and peonies. Dior's house perfumer, Francois Demachy, also uses flowers in his work, and champions biodiversity and female farmers.
In Bloom includes rarely seen photographs of Dior's gardens and detail shots of the house's best floral creations over the years. Photographer Nick Knight shot the cover, as well as an exclusive portfolio of rose portraits. Below, see some selects from the book.