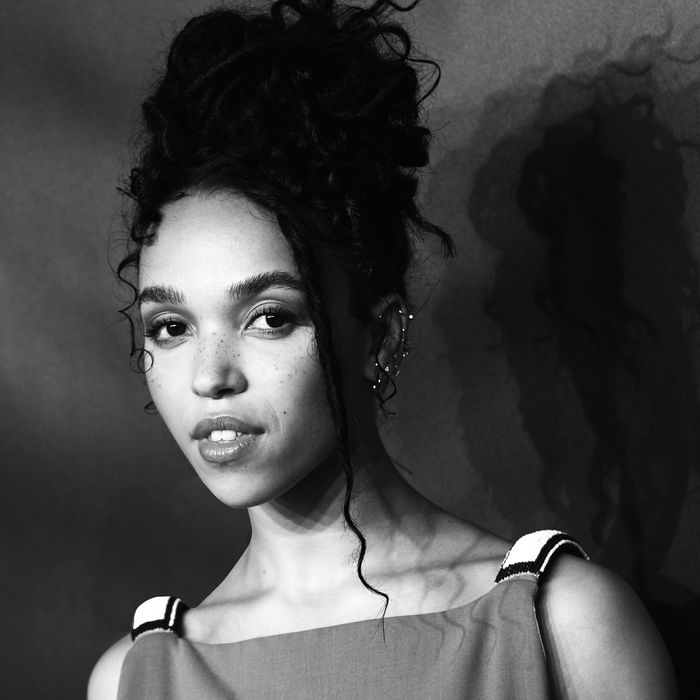 FKA twigs.
Photo: Gary Gershoff/WireImage
Musician and actress FKA twigs is suing her ex-boyfriend, actor Shia LaBeouf, for the "relentless abuse" she suffered during the time they dated, according to a new report from the New York Times.
FKA twigs (who was born Tahliah Debrett Barnett) and LaBeouf dated for just under a year in 2018 and 2019 after meeting on the set of LaBeouf's film Honey Boy. According to the lawsuit, FKA twigs said LaBeouf abused her physically, mentally, and emotionally, and subjected her to assault and sexual battery.
In one instance detailed in the suit, the pair were driving back to Los Angeles from a trip in the desert when LaBeouf removed his seatbelt and said he would crash the car if she didn't profess her love for him. When they pulled into a gas station, FKA Twigs said she took her bags out of the trunk to leave, but LaBeouf attacked her, throwing her against the car and screaming in her face, before forcing her back into the car.
She also says LaBeouf knowingly gave her a sexually transmitted disease, that he got angry if she looked at or spoke to male waiters, and that he had rules about how many times she had to kiss and touch him. Additionally, the lawsuit says that LaBeouf kept a loaded firearm by the bed and that FKA Twigs was afraid to use the bathroom at night for fear that he would mistake her for an intruder and shoot at her.
Another of LaBeouf's former girlfriends, stylist Karolyn Pho, said she experienced similar abuse during her time with LaBeouf, including one instance when he drunkenly pinned her to a bed and head-butted her until she bled.
Lawsuits like this one are uncommon, the Times notes, as abuse allegations usually come up during divorce or custody proceedings, or while seeking orders of protection. But FKA Twigs says she wanted to bring the suit in order to raise awareness about the type of tactics abusers use and in order to show that anyone — even a wealthy, famous artist with a strong support system — can be the victim of domestic abuse.
"What I went through with Shia was the worst thing I've ever been through in the whole of my life," she said. "I don't think people would ever think that it would happen to me. But I think that's the thing. It can happen to anybody."
In an email to the Times, LaBeouf said that "many of these allegations are not true," but went on: "I'm not in any position to tell anyone how my behavior made them feel. I have no excuses for my alcoholism or aggression, only rationalizations. I have been abusive to myself and everyone around me for years. I have a history of hurting the people closest to me. I'm ashamed of that history and am sorry to those I hurt. There is nothing else I can really say."