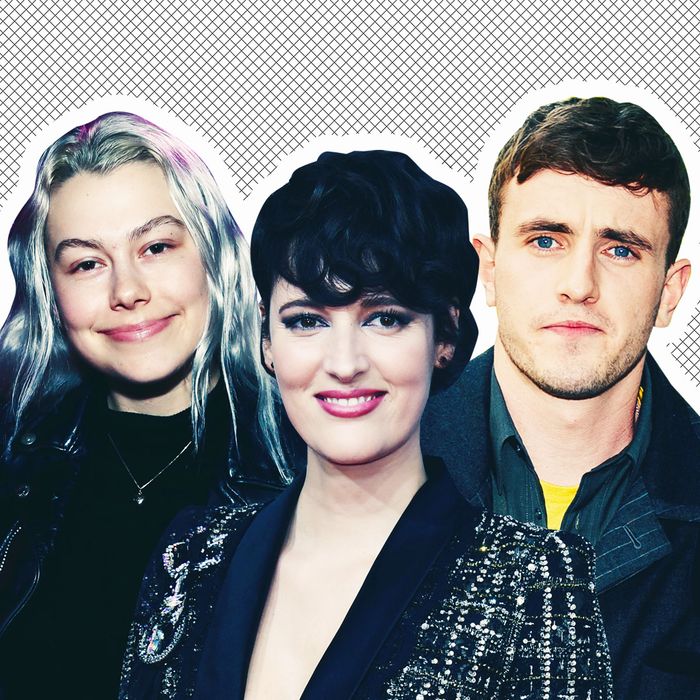 Hehe.
Photo: Getty Images
Today in throuple news: Phoebe Bridgers released a video for her song "Savior Complex" starring her rumored beau, Paul Mescal of Normal People and sexy chain-necklace fame. Now, given the speculation that the two are — or at least were — dating, this is gossip enough. But to make matters more interesting, the video was directed by none other than Phoebe Waller-Bridge, the auteur behind Fleabag.
The video, shot in black-and-white, opens with Mescal doing what he does best, crying, this time on a chilly beach. He's wearing a suit and looks like he's just been beat up. (Very sexy.) Wiping his eyes, he spots a Pomeranian in cape who follows him around for the rest of the video. He steals a guy's car, goes to a hotel room, and, after taking his shirt off, dons a teeny-tiny thigh-exposing robe and goes to sleep.
Bridgers has a few cameos. She's a lady walking by his window. She's a room-service-delivery person. She's in all the hotel-room art. It's not horny or anything, but the song seems to be about sad romance and the vibe of the video is, indeed, sadly romantic.
Anyway, to say that this is the crossover event of the year is an understatement. How did the two Phoebes meet? Is it because of their names? Did Phoebe (Waller-Bridge) know Paul Mescal before this? Did Sally Rooney introduce them? Are they all in a group chat together? Whose dog is that? Was this what Phoebe (Bridgers) was doing when she left L.A. to have brunch with Mescal at a café in Kinsale, Ireland, rather than having sex with him which is what we all thought?
?!?!?!?!