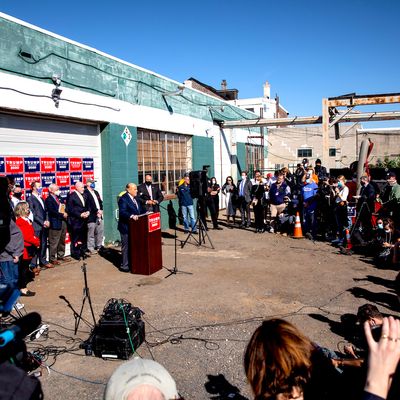 Explain!!!
Photo: Chris McGrath/Getty Images
Can you believe it, almost a whole month has passed since Four Seasons Total Landscaping came crashing into our collective consciousness? Time truly flies when you're thinking about Four Seasons Total Landscaping, as I often am; the intervening weeks wore off none of its hilarious shine. One thing that continues to flummox me, though, is how we got here to begin with. How did the Trump campaign even know about Four Seasons Total Landscaping, much less decide to stage an event in front of its garage? I have been wondering about this for ~25 days, in which no definitive answers have surfaced. But now, Four Seasons Total Landscaping has finally spoken.
On Tuesday, the Philadelphia Inquirer published an interview with Four Seasons Total Landscaping owner Marie Siravo and her staff. According to Siravo, "not a day goes by where there's not a crowd outside" since November 7, when Rudy Giuliani improbably chose their small business as the site for his press conference. As locations go, a parking lot situated between a crematorium and a sex shop was surprising, particularly given that it sits roughly ten miles away from where election officials continued counting votes in Philadelphia's Convention Center. Many observers concluded that someone in the Trump campaign screwed up, booking the event at Four Seasons Total Landscaping when they meant to lock in the Four Seasons hotel. The president's own tweets bolstered this narrative, although his people assured the New York Times that "the mistake was not in the booking, but in a garbled game of telephone," and Trump simply misunderstood.
A likely story, I thought, and even White House staffers who spoke to the Times seemed to agree, calling the mess a "Rudy special." But Four Seasons Total Landscaping sales director Sean Middleton told the Inquirer that, actually, the choice seemed deliberate. Middleton says someone from the Trump campaign called around 8:45 a.m. that day, saying they were scouting the I-95 corridor for sites to hold a news conference, and would Four Seasons Total Landscaping be amenable?
"We thought it was nonchalant," Middleton recalled. "It wasn't even determined that it would be at Four Seasons Total Landscaping, it was just, 'Hey, you're one of the areas.'"
Yet campaign staffers reportedly fell for Four Seasons Total Landscaping within about ten minutes, and "the deal was sealed" by 9:45 a.m. "I gave them the address, I said where we were, where they can meet us, and that was that," Middleton said. "It was a pretty quick setup, I mean, obviously you saw what appeared on TV."
Indeed we did! And we will never forget it.