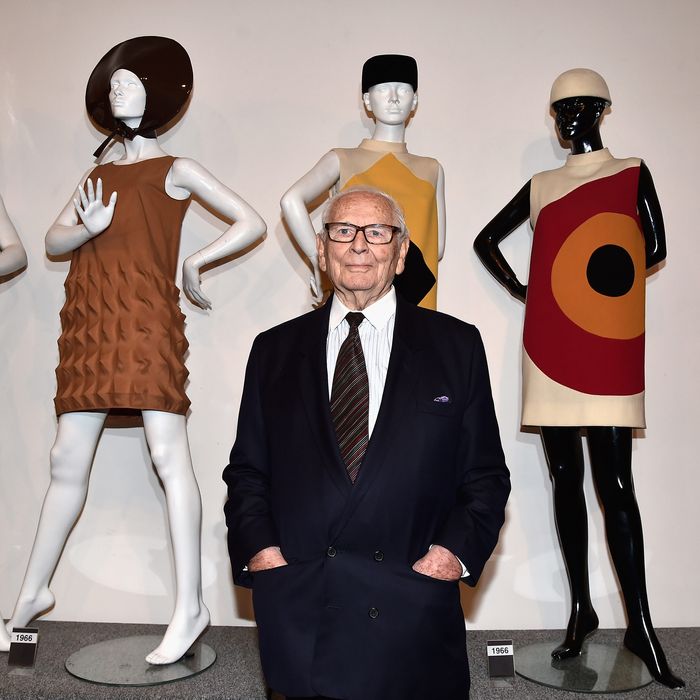 Photo: Pascal Le Segretain/Getty Images
On Tuesday, France's Academy of Fine Arts announced in a statement on Twitter that French fashion designer Pierre Cardin had passed away. Cardin who was 98 years old, is best known for his mod 1960s-era designs. His family confirmed to Agence France-Presse that he died in a hospital just outside of Paris.
Born Pietro Cardin in 1922 outside of Venice, the designer became known as Pierre after his family moved to France to seek refuge from Fascism. Cardin trained as a tailor from a young age and, after serving as Christian Dior's tailor during the New Look era, founded his own eponymous label in 1950.
In 1959, Cardin launched the first ready-to-wear collection at the Printemps department store — a visionary move that got him temporarily expelled from the body governing French haute couture. In the 1960s, he again broke tradition with his futuristic unisex designs, which defined space-age fashion. Cardin was also among the first designers to enter Japan, China, and Russia, eventually pioneering modern branding by licensing his name to accessories, furniture, household products, and fragrances. The Beatles, Barbra Streisand, Jackie Kennedy, and Naomi Campbell were some of the celebrities to wear his designs.
"It is a day of great sadness for all our family. Pierre Cardin is no more," his family said in a statement. "We are all proud of his tenacious ambition and the daring he has shown throughout his life."