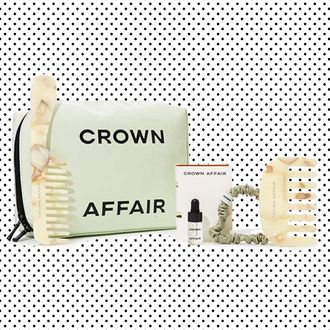 Photo: Courtesy of the Retailer
The 19th Empress of Austria Elisabeth Amalie Eugenie, better known "Sisi" to her friends, had rich, floor-length chestnut hair that brushed her ankles as she walked. According to her biographer Brigitte Hamann, Sisi loved the feeling of her hair enveloping her like a cloak. Among her hair rituals, she allegedly washed her hair every three weeks with a mix of raw egg and brandy, combed it out, and then slipped into a waterproof dressing gown to pace the room until her hair dried (a servant was probably tasked with collecting the hairballs).
If Sisi's hair habits sound amazing to you, you probably wouldn't mind developing a hair ritual of your own. The company Crown Affair wants to help and created a fancy hair starter kit just for the holidays. Neatly packaged in a handsome little bag, the products in the kit are appropriate for all hair types. There's a silk scrunchie and a vial of nourishing hair oil to make your hair as soft as Sisi's nightgowns, along with two marbled combs (one for you and one for your handmaiden/sibling, if you so desire). Use the long-handled comb to work product through your hair, and the hand comb to work out snarls and tangles. You can use them both on Instagram to show off that, in addition to a skin-care routine, you now have a hair-care routine, too.
Every product is independently selected by our editors. Things you buy through our links may earn us a commission.