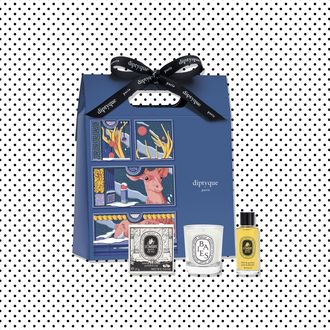 Photo: Photo courtesy of Diptyque.
This gift is an introduction to a little bougie-ness in one's life, like ordering extra avocado on your salad for the first time or using Japanese fine-tip pens. Within this special, limited-edition Diptyque set are three ways to level up showering, an experience that usually doesn't get as much attention as drawing a soothing bath.
The set features tiny versions of the brand's best sellers. First, there's a mini version of the brand's famed and most popular bougie scent, Baies. (Despite being petite, the candle still has up to 30 hours of fragrant burn time). Then there's a smooth bar soap, shaped like a tiny egg and a golden vial of their shower oil in the same scent. Use all three and it'll turn showering from a to-do into an experience.
Because it's so reasonably priced, the set is already sold-out at several retailers. But we found it for you and your lucky recipient here, at Space NK.
Every product is independently selected by our editors. Things you buy through our links may earn us a commission.