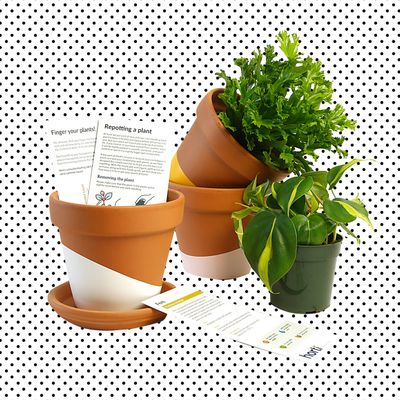 For the person on your list with commitment issues that thwart them from becoming a full-time pet parent: Get a plant. Or, better yet, many plants. They may not be as fun as rescue dogs, but they'll also look cute in the living room and don't even need to be fed every day. Plus, turning an apartment into a Fern Gully–esque forest sounds like a nice little project right now.
For $25 a month, Horti will send a ready-to-go plant in a cute six-inch terra-cotta pot (one of three choices) and saucer straight to your recipient's door. A six-month subscription starts at $140 if you want the gift to keep on giving.
To ease your new plant parent into the responsibility, Horti will start out with hard-to-kill plants, and then gradually amp up with more exotic species. If their cat is prone to munching on green pets, you can choose pet-friendly plants, too. Because plants are more fun to receive in the mail than bills.