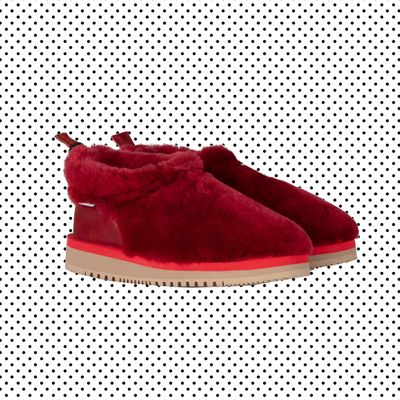 Photo: Courtesy of the Retailer
If 2020 could be summed up in one pair of shoes, it'd be house slippers. The footwear equivalent of sweatpants, they're the only thing I want to wear on my daily commute from the bed to the desk to the fridge. There are plenty of cute styles out there right now — tie-dye Crocs, sleek satin slippers, minimal slides that look like they came from a Japanese ryokan — but these limited-edition Aries x Suicoke sheepskin booties are my new obsession.
They're a collaboration between Aries, a cool British streetwear company best known for their tie-dyed sweatpants, and Suicoke, a Japanese footwear brand. Available in three colors (red, black, and brown), they're a little fancier than your standard sheepskin bootie but equally cozy. The Vibram soles give them added support, so you can also wear them out and about. And they're just under the ankle, so you can show off fun socks and slip them off with ease if you're feeling lazy.
Right now, the shoes are extremely limited and only available in men's sizes, but if you have small feet, you can also order them on the Aries website — just expect that it might take a bit longer to ship since they're coming from the United Kingdom.