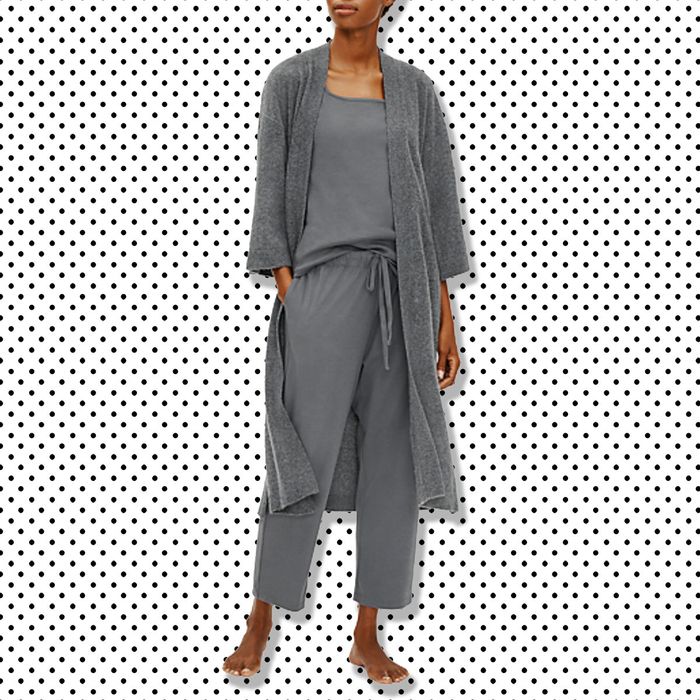 The robe can be a symbol of both slovenliness and sophistication. On the one hand, there's the iconic Tony Soprano, stumbling down his driveway in a terrycloth robe to pick up the morning newspaper. But they're also a sign of power: Think Hugh Hefner, master of his domain, slinking around the Playboy Mansion in a silk robe with a cigar in hand. Done right, the robe can embody a sexier, more self-indulgent kind of nonchalance.
A lot of the robe's status has to do with its material, and cashmere is the ultimate luxury. Eileen Fisher recently started making one (pictured above) that's soft like butter and makes me feel like a queen. It's neither casual nor over the top; it's just really, really nice. Whenever I put it on, I never want to take it off — although I've yet to be brave enough to wear it on a Zoom call.
Because it's made of 100 percent cashmere, this robe sells out quickly. (Keep an eye out for restocks.) If you don't see the size you're looking for, a long cashmere cardigan, a poncho, or a wrap has a similar effect, and also makes a good gift. Eileen Fisher also recently started selling organic-cotton robes, which look just as cozy (and are slightly more affordable). But if you're going to splurge, cashmere is king. Below, a few more options.
Photo: Alex Caesar Estrada
This article has been updated.