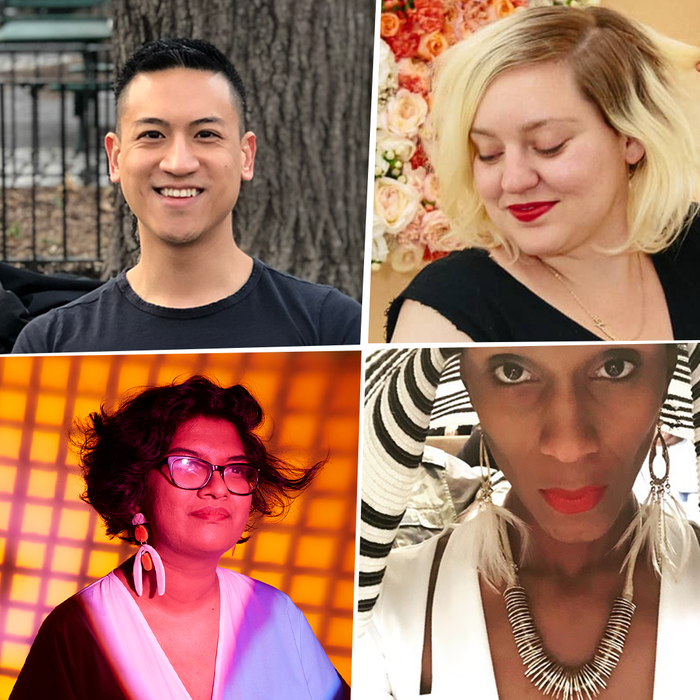 Clockwise from top left: Michael Wei, Laura Delarato, Kiana Moore, Shama Rahman
Photo: Courtesy of Talent
While 2020 may not technically be the longest year on record, it has certainly felt like it at times. Time itself has been a slippery concept this year: Without our usual rhythms and routines, we've had to create new ones. In New York City, we marked our evenings in the spring with a nightly 7 p.m. clap for essential workers and spent long summer nights dining al fresco on city streets.
With the arrival of the holidays, the value of time has never been clearer — and after nearly a century and a half in New York City, Bulova understands that now more than ever, time is the best gift we can give or receive this season. (Though, as millions of us recently saw in a certain hit series about a chess prodigy, its watches are a close second.) The pioneering watchmaker was founded in lower Manhattan in 1875 and has been part of the fabric of the city ever since, with designs that are as innovative and stylish as the city itself.
The Bulova Rubaiyat, for example, pays tribute to the brand's first-ever women's timepiece, which was released in 1917. The modern style features individually hand-set diamonds, a cabochon crown at the 12 o'clock position, and a Goddess of Time insignia on the caseback, making it an ideal token for a loved one in 2020 (a year when you've likely spent all your time together or too much time apart).
This year, Bulova is partnering with The Cut to celebrate the gift of time by asking seven members of our creative team how they've learned to value time in new or unexpected ways this year. Read on for their reflections on slowing down, spending time with family, and deciding not to wait for the most important things in life.
Shama Rahman, Director of Brand Strategy, New York Magazine
"Growing up in New York, I learned early how to overschedule every day and watched others do the same. Whether I was at work, with my loved ones, or commuting to my favorite places, slowing down and resting never felt like top priorities. 2020 has really shifted that energy here. Seeing time pass used to be a reminder to quickly move on to the next thing so I didn't fall behind my fellow New Yorkers. Now, it feels like a reminder to commit moments just to myself and stop comparing myself to neighbors who have also been forced to slow down their processes. I sense the city has learned rushing isn't the only way to use time after all."
Kat Gutierrez, Director of Content Management
"Working from home has made me value my time with my family and my husband in new ways. Since we're always around each other (and in the same space!), finding ways to connect at the end of the day or spending meaningful time together on the weekend is so important. With the holidays coming up, gifting an extra special present like a Bulova watch will show how important my family has been to me this year."
Jill Hilbrenner, Executive Editor, Vox Creative
"2020 has made me feel more 'present' when I'm with people I care about. Whether it's people I spend just a little time with (like friends I see in passing for a socially distanced walk in Stuyvesant Park) or people I spend a lot of time with (like my husband, who's been working from home with me at our place in Gramercy since March), I try to make the minutes count. New York feels very different now, but still very much alive, and when I'm with friends or loved ones from around the city, I get this 'recharged' feeling in the middle of a wild, wild year."
I'm taking more time to: "Notice the small details. Pay attention to how happy it makes me when I hear someone laugh. Tell people that I love them, meaningfully and often. Better to do that than let all the moments that could be special fly by while I'm scrolling through my phone, right?"
Molly Drislane, Manager, Media Insights
"I got married this year! The abundant time I spent at home with my (now) husband affirmed that even without the bells and whistles of a big ballroom wedding, I didn't want to wait any longer to marry him. This summer, we headed to the diamond district in midtown Manhattan and picked out our wedding bands before having a small ceremony with family and friends."
Corri Skinner Levine, Executive Director, Client Success, Vox Creative
"In the before times, I didn't even realize that I was constantly over-extending myself with my feeling of FOMO that was ever-present while running around New York City and putting in long hours at the office. The pandemic has forced me to slow down for the first time in my adult life. I've come to realize the importance of stillness and prioritizing myself and my loved ones. When else would I catch up on the most random plethora of television programs, closet organization, intricate self-care routines, and weekly trivia with my sisters?! While I feel like I completely lost track of days, weeks, months — I could use a good watch to avoid this feeling of lost time — I'm grateful for the wakeup call and quality time I've gotten to spend at home."
Michael Wei, Content Manager
"It's been harder to find opportunities to connect with the people we care about in 2020, and that has made me appreciate the time I spend with them so much more. I've realized how important it is to take a step back from emails and Zoom calls and prioritize the people we love, including ourselves. I've made a point to make sure I'm disconnecting from work and connecting to my community. It's been a difficult year for everyone, and it's important that we all take the time to reach out and support each other.
I think a Bulova watch would make an amazing gift for the holidays. I recently binge-watched a show in which the lead character's adoptive mother gifts her a gorgeous Bulova watch and it was so meaningful. The watch had 'With Love From Mother' engraved on it, and it was a moment where we witnessed their growing bond."
Kiana Moore, Head of Epic Digital
"2020 helped me realize that the passage of time is only important when you share it with people you love. The days of 2020 feel like routine, repetition, not the passage of time because you are in isolation, repeating the same thing over and over. Only when you have unexpected surprises and a community does time really take hold in your soul."
Laura Delarato, Creative Director
"Before 2020, everything felt like a rush here in New York: 'I have to do this, I need to do that.' While I am a tried-and-true, born-and-bred New Yorker and deeply used to the hustle since birth, I was starting to really resent how New York was making me feel anxious. And while 2020 has been its own challenge, there really is something to be said about a massive, global pause that puts things into perspective. It's allowed me to see my hometown in a new light: views, streets, corner stores, wall art, my little studio — they've all became so much more beautiful to me. And time has become so much more precious. New Yorkers, we like to rush. But now, I'm learning to take my time. I even started learning how to play chess! I guess I'll have to give myself a Bulova watch to go with my new POV."
This advertising content was produced in collaboration between Vox Creative and our sponsor, without involvement from Vox Media editorial staff.