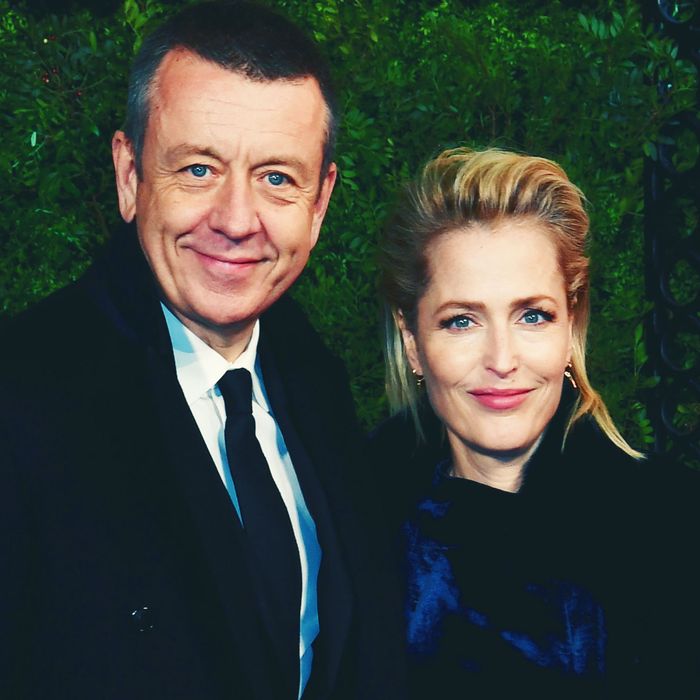 Photo: Dave J Hogan/Getty Images
Today, "Page Six" broke the news that Gillian Anderson and Peter Morgan, creator of The Crown, broke up after four years together. Which, I'm sorry, but did anyone know they were dating?
Normally a celebrity break-up of this tier — between beloved actress and guy behind beloved historical drama — might not garner that much attention, as there were no French chateaus or pet chickens named Karen involved. That said, the news of their amicable split comes a month after season four of The Crown, in which Anderson played the key role of Margaret Thatcher, premiered on Netflix.
According to "Page Six," the couple met in 2016 on the set of Sex Education. From there on out, they were one of those enviable couples who live in separate houses. As Anderson said in a January interview with the Sunday Times: "My partner and I don't live together. If we did, that would be the end of us."
In light of the news of both their relationship and its dissolution, I'm filled with a burning curiosity. I'd trade a limb to have been on the set of The Crown during filming, mostly to flirt with Josh O'Connor, but also to witness the Anderson-Morgan dynamic. I can only imagine what it's like playing one of history's most maligned women, and on top of that doing it under the direction of your boyfriend. (Anderson was an extraordinary Thatcher, with her shellacked bouffant and husky, mellifluous voice. Still, according to my very upset expat parents and every U.K.-based critic, The Crown was altogether too sympathetic to the character.)
Neither party has commented on the separation, and no, Margaret Thatcher will not be returning for season five.