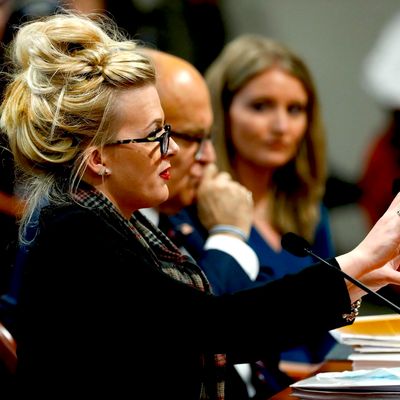 Surprise!
Photo: JEFF KOWALSKY/AFP via Getty Images
It is time once again to check in with freelance IT consultant Mellissa Carone. How is she feeling, now that Rudy Giuliani — who called her as a witness in last week's train wreck of a voter-fraud hearing — has been hospitalized with the coronavirus? Is she worried, given her close proximity to and physical contact with the attorney while he was potentially contagious, and given the fact that neither of them wore masks? Will she be taking precautions to mitigate the risk she may pose to others?
No and no, you will doubtless be surprised to learn! Or so she claimed in a recent interview with Inside Edition, touching on some of the finer points of her newfound notoriety. In the segment, Carone denied speculative allegations that she was drunk during her sort-of-slurry, mildly belligerent testimony to Michigan's House Oversight Committee on Thursday. ("That's my personality!") She praised Cecily Strong's impression of her in Saturday Night Live's cold open. ("It was very funny, she looked just like me!") She said she didn't know if the Trump team knew about her little sex-tape-hacking scandal before enlisting her as a witness. ("They never said anything!") And she informed Inside Edition that she will not be going into quarantine, explaining that she is "not concerned at all" about contracting COVID-19.
Meanwhile, amid fears that the hearing could balloon into a superspreader event, the Ingham County Health Department has ordered anyone who came within six feet of Giuliani to self-isolate for two weeks, along with any attendees who failed to cover their faces. Carone checks both boxes, and she also sat feet away from Jenna Ellis, who has been working with Giuliani on the Trump campaign's ill-conceived legal gambit. Ellis's coronavirus diagnosis was confirmed on Tuesday, but according to Politico, Ellis already felt ill on Friday, when she attended one of the dread White House holiday parties. No, she was not wearing a mask, why would you ask that?
In any case, the timeline indicates that Ellis may well have been contagious during the hearing, and Ingham County believes Giuliani almost certainly was. All objectively concerning, I would say, but what else do we realistically expect from this most chaotic of Trumpworld witnesses?