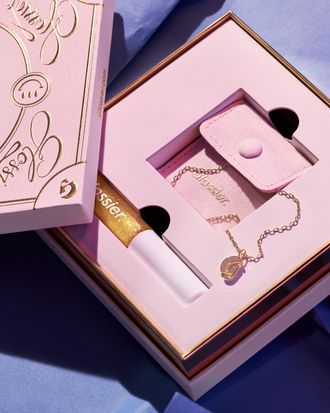 Glossier's limited-edition Gold Kit.
Photo: Courtesy of Glossier
Did you restock all your millennial pink empties and nab a plush Lil' Timmy Tim hoodie over the long shopping weekend? Good, because today Glossier unveiled their limited-edition 2020 holiday collection, and it features extremely gift-able shiny and soft things to make faces, necks, and even arms feel more festive this year.
In true Glossier fashion, each end-of-year treat comes in pretty packaging so little-to-no wrapping is required. All you have to do is click "add to cart," sit, back, and relax. Everything (save for the Skincare Edit) will only be around while supplies last, so let's hurry up and meet the holiday crew.
The Holiday Collection