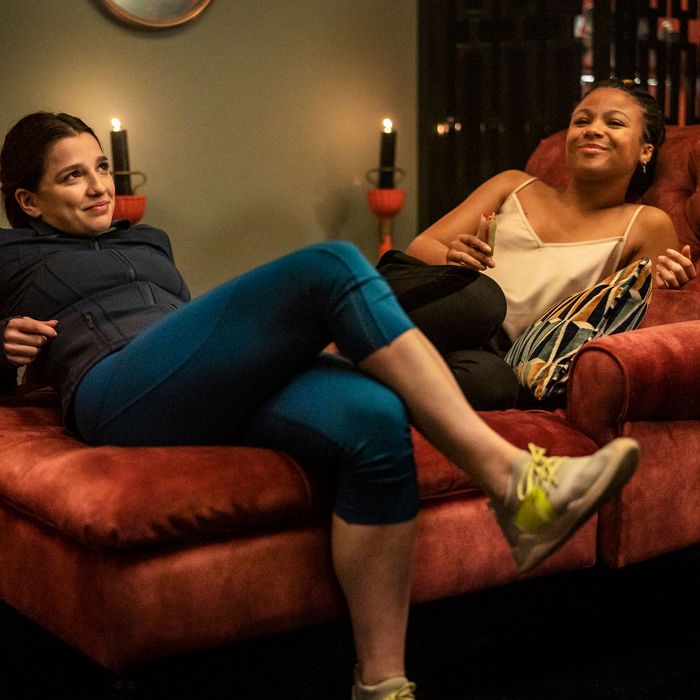 As Hollywood has made clear, the finance world is seemingly full of aggressively sexual straight men. If you, like me, have watched Hustlers, The Wolf of Wall Street, or Billions, you probably also picture an industry filled with coked-up pinstripes speaking in dick metaphors and harassing women. And since I don't personally know anyone who sits on the top floor of glass buildings yelling about numbers, I've accepted this on-screen version of events as gospel (in my defense, the stockbroker who inspired The Wolf of Wall Street said that in real life, the debauchery was "even worse.") That is, until HBO's Industry introduced me to some extremely horny women in the finance world.
Finally, some WAP on the trading floor. While the past few years have seen an explosion of sexed-up women on-screen — Fleabag, Broad City, Insecure, Mrs. Fletcher — it's still rare for a series about a testosterone-fueled space like investment banking to give women power of any kind, let alone sexual agency.
Industry focuses on a group of four grads who are put in a hunger games-like fight for permanent jobs at a London-based company called Pierpoint & Co. ("Half of you won't be here in six months," says one of the firm's managing directors in the least motivating speech ever.) Unlike most shows about power and money, not all of its characters are white. There's Harper, a cynical, biracial New Yorker who grew up working class; Yasmin, a cosmopolitan, eager-to-please rich girl; Robert, a blond-haired heartthrob who loves to party, and Gus, a gay, Ivy-league educated Black man. In addition to staring at indecipherable charts and muttering incomprehensible acronyms, they do things the rest of us can understand, like fighting with each other, getting high and most importantly, hooking up.
While sex and drugs are the butter to the finance world's bread (money), Industry subverts tired gender dynamics. In movies and shows about Wall Street, women's bodies are usually appendages of male desire, like a sudsy Margot Robbie explaining mortgage-backed securities from the bath in The Big Short, a sex-worker fuelled orgy in The Wolf of Wall Street or Billions' Damien Lewis walking into a hot tub with naked girls. But in Industry, female lust is a full-bodied entity, separate from whatever men want. Harper, played by Myha'la Herrold and Yasmin, played by Marisa Abela, act as horny and depraved as male characters usually do, using sex to feel powerful, in control and fulfilled.
Of course, this isn't some feminist utopia where the male gaze doesn't exist — after all, it was literally written by two dudes who used to work in finance (though it's worth noting that Lena Dunham, famous for playing the horny protagonist in Girls, directed the first episode of Industry and influenced how the show approached sex.) There are still lots of hyper-masculine managers (one carries a bat around the office) who harass and verbally abuse their underlings and despite the diverse cast, all the sexually charged characters are still hot, thin, and young. But the show is less interested in sending a rah-rah sex-positive message than it is in acknowledging that women, like men, can be power-hungry horn dogs.
Industry establishes Harper and Yasmin as sexual agents within the first five minutes of the show, when they ogle fresh-faced Robert during orientation ('He's a whole snack," says Harper.) From that point on, as their work lives spiral out of control, they gain confidence from being more sexually adventurous and decisive than the men around them. This behavior is most pronounced in Yasmin, the doe-eyed, long-haired, pussy bow-wearing woman who I immediately worried was the token sexual harassment victim. My concerns weren't entirely unfounded; she is verbally abused and constantly undermined by her manager, Kenny, though he comes across as more pathetic than powerful (in the most egregious scene, he makes her get a lap dance in front of clients.) But Yasmin's more important storyline involves treating Robert, played by Harry Lawtey, like a sexual puppet who jumps whenever she pulls his strings. She's bold and crude in her come-ons — in one scene stuffing her thong in Robert's pocket at a bar, in another ordering him to, um, eat his own semen — and she never seems ashamed of her advances, confidently meeting his gaze even under the office's fluorescent lights.
In Industry, it's the men who are aggressively pursued and objectified. Yasmin's much hornier than her boyfriend — she likes rough sex, public sex, kinky sex — and he's constantly turning her down, which only fuels her flirtation with Robert. Most naked shots of women happen while they're getting oral sex from men; the only full-frontal nude is of Robert, who Yasmin and Harper treat like catnip throughout the show.
But these aren't just gratuitous hookups meant to inject some boob into a show about numbers. All the female-driven sex helps explain the women's insecurities, motivations, and their complicated relationships to power. And to show they have the same range of sexual compulsions, including sadomasochism and a need for control, as straight men are allowed to have on-screen. (It's also notable that the series features gay sex, unfortunately still a rarity on TV.)
While Yasmin's sexuality is overflowing, Harper has a less performative horniness that comes across as even more confident. It feels like an ingrained part of life — brush teeth, work, swipe right, shag, go to bed — and she's comfortable using her libido to fulfill practical and emotional desires. ("Her only focus, really, is power," said Herrold in a recent interview, adding that her character uses the people she sleeps with "to get what she needs, or she's avoiding another situation and uses sex to do it — which I love.")
In one scene, Harper has cybersex with an ex-boyfriend who's helping her forge a college transcript. In another, looking for a release after a particularly stressful day of work, she brings a guy she met on a dating app home and immediately sits on his face and makes a playful joke about his uncircumcised dick.
In these subversive moments, Industry seems to be making a feminist point about whose fantasies typically get the most screen time. But fundamentally, the show is more about sex and power than sexual empowerment. It uses Yasmin and Harper's horniness to make a more nuanced, darker argument about equality: as fully formed sexual beings, women also use sex to manipulate others and stroke their egos. Just like men, they are every bit as capable of being anti-heroes who crave control, pleasure, and attention at all costs.
That theme is best cemented in the final episode, when Yasmin walks in on Robert and Harper hooking up at a party. She wedges between them and suggests a threesome, which Harper promptly calls off when it becomes clear that she's the third wheel. Beneath the heavy breathing, the women are playing out a power struggle that started in the office: Yasmin is desperate to feel validated, Harper desperate to hold onto her control. They both quickly leave the room, while Robert is left on the couch, panting, pantless, and deeply confused.