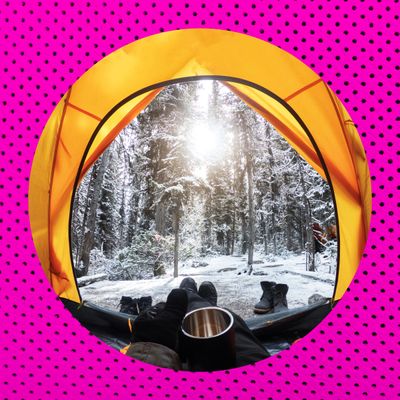 Photo-Illustration: by The Cut; Photos: Getty Images
"Hot Bod" is a weekly exploration of fitness culture and its adjacent oddities.
Winter camping is about as challenging, cold, and dark as you think it is, but it's also so, so much better. Yes, it's snowy and damp. But also it's calm, silent, peaceful, and otherworldly. Snow absorbs sound waves and makes the world feel silent and pillowy. And the views are clearer, cleaner, and more spectacular. "On the East Coast, there's a lot of overcover in the woods in the summer," says Travis Clough of the outdoors group Venture Out Project in Maine. "But in the winter, because there are no leaves, you can see even further. All of a sudden, there is a lot of gorgeous openness, and you can see so far."
If you have experience summer camping, the right warm and waterproof gear, and some concrete knowledge about the big risks — all crucial before you start winter camping — you're about to graduate into a magical new realm. "You'll be surprised at how clean it feels," says Kristina Ciari with The Mountaineers, a Seattle-based nonprofit connecting people to, and educating them about, outdoor experiences. "There's no dirt. There are no bugs. The cold generally makes things feel very calm. You can wake up to a brand-new landscape outside your tent window. A fresh blanket of snow is just really rejuvenating."
Though everyone cites the welcome crowd reduction of winter camping as one of its greatest benefits (you get the woods all to yourself), the increased presence of nonhumans is also a big attraction. "I think the ecology of winter is fascinating. You see signs of animal activity all over the place: tracks, scat, and clues to their behavior," AMC Wilderness guide Clare Arentzen tells me. "The forest comes alive in the sense that you see just how active the animals are, which is much harder to notice in the summer." And there were a lot of people on the trails over the past several months, keeping the animals hidden far off.
After a summer that dramatically rejuvenated public interest in outdoorsy venturing, the following colder months failed to initiate any mass hibernation in these new hikers and campers. As Meaghan Praznik with AllTrails tells me, to her and her team's shock and awe, they've seen people hiking even more as winter sets in. "Typically, we are a seasonal app, with most trail activity occurring during the warmer months," she says. "Not only are we seeing much less of a drop-off between the summer and winter of 2020, but we're actually still experiencing growth." The company's biggest month of growth during this very big year was November (250 percent more use compared to the same month in 2019). AllTrails reports that outdoors people were especially active in midwestern and eastern Rocky states these past few months, where they've been experiencing a colder than average fall and more snow. This year, people are bundled up and marching bravely into the chill, going on hikes and setting up camps past peak season.
What a vibrant, welcoming wonderland awaits you! Sorta. There's a treacherous bargain to winter camping. Maybe this is a good time to repeat the disclaimer: Before you dream of winter camping, it's important that you have peak-season summer-camping trips under your belt. The magical new world is phenomenal, but winter camping is a tougher, major-league, big-kid sport. Depending on where you are, there are avalanches (!!) to be wary of; and an avalanche safety course is a responsible person's prerequisite. And less dramatic fates — hypothermia (page 46 of this guide) and frostbite — are always lurking.
Proper equipment (like zero-degree sleeping bags and tons of warm wool socks) is necessary — and it's just as necessary to constantly pay attention to your bod in this new condition. "Eat and drink constantly," says AMC's Arentzen. "Staying fed and hydrated is the easiest way to avoid hypothermia." Food that's high in fat (nuts, cheese) will give you slow-burning fuel that will keep you warm. Winter camping is always a brainstorm session for innovative ways to keep up your body temperature. "Before you go to bed at night, fill a water bottle with hot water. Make sure the lid is on really tight," suggests James Pierson with American Alpine Institute, "and toss it into the bottom of your sleeping bag." You can also use the winter to your advantage. "Snow can be quite insulating," says the Mountaineers' Ciari. "Building a snow wall around your tent, if you're tent camping, is really cozy."
While winter camping, everything — cooking, setting up a campsite, picking your clothes — will have more intricate challenges. "Don't underestimate the relative difficulty of something like starting a fire," warns Sam Sabeti, AllTrails' growth product manager and a winter-camping fiend. "The ground is a lot more damp during the winter; there could be snow in the firepit. Take plenty of fire-starter with you, like Duraflame logs." Plan how you're going to set up your tent. Tent poles that you're used to banging into hard dirt will not stay put in soft snow. And make sure you have even more distance from the chilly ground: One sleeping bag isn't enough for insulation, but two might be. Even layering — and making sure you don't sweat — is going to be a higher-stakes negotiation to keep your body dry and warm.
I've found that winter-camping skills are instructive for anyone who just wants to be outside a bit in cold-weather winter. I've learned hard-won lessons that have made me a better winter human in general, especially as my social life is more outdoors. For example: NO SITTING DOWN! If you sit directly on the ground, or something that retains cold, like stone, it will absorb into your entire body via your butt cheeks within half of a second. Sit on your backpack or a folded-up sleeping pad. And, as soon as you stop moving, LAYER UP. You may be feeling warm from your work, but, again, your temperature will drop in a half-second and you'll lose all the good body heat. If your lower layers are sweaty, get rid of them immediately and replace with dry layers. All these tricks helped me just very recently when I went on a hot-toddy-river-walk-and-sit excursion.
Another chill reminder: You don't need to spend the night to get all this magic. Clough, with Venture Out, spends the winter cross-country skiing from hut to hut and going out on snowy hikes. "Winter hiking can be easier on the body than the summer," Clough says. "Instead of climbing over all these boulders, you've got a smooth walking surface, covered with snow." And this suddenly smooth, sleek land opens a world of ways to move through it. There are suddenly so many vehicles available — not just hiking in boots. "You can be in snowshoes; you can be in cross-country skis; you can hike up with a snowboard on your back and snowboard down. You've got this landscape! The question is: Which way are you going to travel up, and which way are you going to travel down?" The world is your cold, snowy oyster!