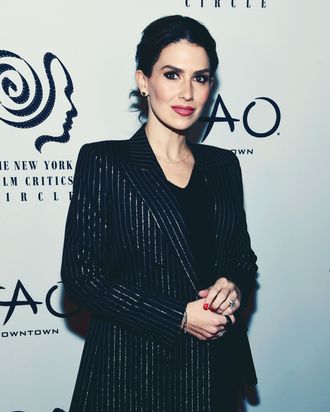 Hilaria (Hillary) Baldwin.
Photo: Jamie McCarthy/Getty Images
After Hilaria (Hillary) Baldwin's nonexistent Spanish heritage unraveled before our eyes last week, one wise course of action she could've taken was to fall off the grid for a bit — perhaps do a little introspection while waiting for the national attention to blow over. While Baldwin promised a social media break, she returned to Instagram mere hours later. And now she has spoken at length with the New York Times, in yet another attempt to "clarify" that, despite speaking in a Spanish accent for the past decade, she is not guilty of mischaracterizing herself.
Unlike her backstory, Baldwin's new defense does not waver: In the interview, she claims that she has always been upfront about growing up in Boston, and that she is not to blame for all the misconceptions about her heritage. As for all the evidence to the contrary, including two cover stories from ¡Hola! magazine that call her a native Spanish speaker, well, she says she didn't read them, so she couldn't have corrected the record. The prolific Instagram user — who frequently shares baby photos and workout routines with her 879,000 followers — also periodically returns to the ideas of "boundaries" and "privacy" in explaining why she hasn't, for example, publicly spoken that much about her upbringing and parents, Kathryn Hayward and David Thomas.
The only thing Baldwin is guilty of, she argues, is loving Spanish culture. She says her family frequently enjoyed Spanish cuisine and that, "When we weren't in Spain, we called it 'we brought Spain into our home.'" Though Baldwin claims to have first visited the country when she was still in diapers and says she returned at least once every ensuing year, she declines to specify how much time she cumulatively spent there. "I think it would be maddening to do such a tight time line of everything," she explained to the Times. "You know, sometimes there was school involved. Sometimes it was vacation. It was such a mix, mishmash, is that the right word? Like a mix of different things."
As for the times Baldwin has spoken about "going home" when traveling to Spain, where her parents and older brother moved in the past decade? "Home is where my parents are going to be," she said. "If my parents move to China, I am going to go to China and say, 'I'm going home.' "
Not sure that's how most people would use or interpret that phrase, but okay!