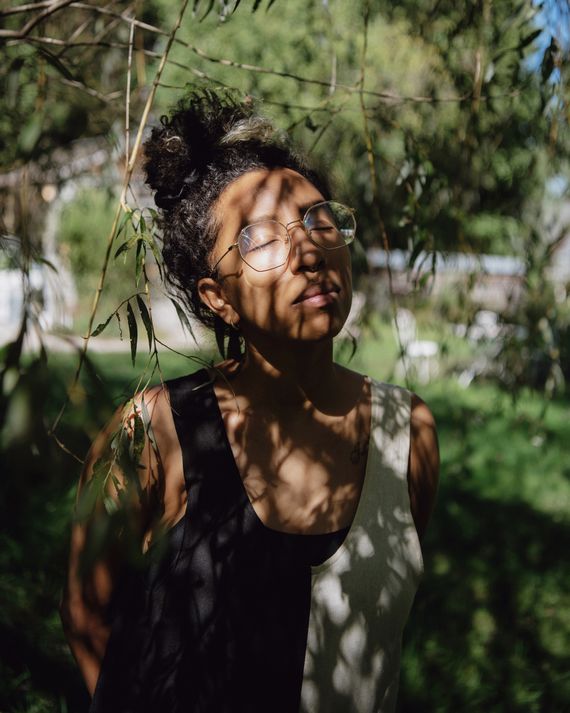 New York–based photographer Jasmine Clarke got a breath of fresh air during the pandemic when she was invited to experience a weekend at Activation Residency, a Black trans–led artist-residency program in the Catskills, back in September. After spending two back-to-back weekends taking naps, connecting with the residents and with nature, Clarke described her experience as almost reminiscent of childhood, owing to the endless amount of time she had for exploration and rest.
"I was able to tune into different things with the camera. Whether it was spending a long time just looking at dead wasp nests or small aspects of the space, the camera helped me draw attention to details of the experience," says Clarke. "I wanted to capture a certain stillness or calmness. People in moments that are not necessarily meditative, but almost like a trance."
Activation Residency was founded in 2018 by Kamra Hakim in response to the the lack of creative and healing opportunities available to Black and brown trans and queer artists, activists, and community members. "This project is inspired by the transformative power of intimate gatherings," says Hakim. "Most of my transformation has happened in intimate group settings where my care is prioritized. In integrating what that did for me, it only felt right to replicate that experience for others, especially for Black trans folk."
Excited by the idea of space where Black and brown trans and queer artists and community members could hit pause and come together, Clarke used her camera to capture Black joy and moments of healing. "I hope to broaden the scope of imagery we are surrounded with in terms of nature and who has access to it," says Clarke.
Each residency program is curated to feel different than the one before it, but the activities all aim to reconnect Black bodies to the earth through healing sessions with practitioners working with many modalities, organic meals, lounging by the pond, dips in the hot tub, hangs in the sauna, solo or group art practice, community play, dance parties, campfires, and more.
"I am using the idea of a 'residency' in a subversive way," Hakim explains, "to reclaim our spaces to be more than just prestigious studios where only a particular group of people get to go and reside; instead, I want to use the residency as a tool to bring Black bodies back into nature, back into sanctuary, and back into luxury."
In the images below, Clarke documents the calmness and stillness of her time at Activation Residency.