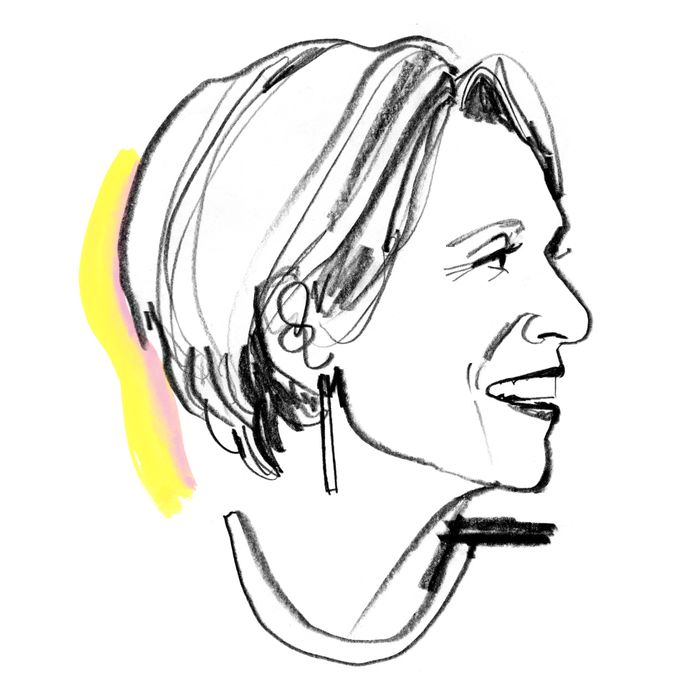 Illustration: Lauren Tamaki
Imagine being the right hand to Shonda Rhimes and the house she built, Shondaland. That's been television and film producer Betsy Beers's career since 2009, when she started working alongside Rhimes on programs like Grey's Anatomy and Scandal that changed the Zeitgeist. Now, Beers & Co. have moved over to Netflix following a nine-figure deal with the streamer to produce and create original programming. First up for Beers is Bridgerton, out now on Netflix and highly bingeable, a Regency-era soap filled with gorgeous costumes, gorgeous set pieces, and gorgeous people. In 2021, Beers will be teaming with Rhimes on Inventing Anna, a series based on the story of grifter and con woman Anna Delvey as revealed in a 2018 New York Magazine feature. Beers lives in Los Angeles with her husband and their dog. Here, how she gets it done.
On the adjustment of WFH during the pandemic: 
My entire work life for the past 500 years has been getting up in the morning and going into an office of some sort or going to set — I might be in meetings, or I might be spending five hours in a room with a writer. I'm not a person who ever worked from home before, so it's been a surprising shift. The overall rhythm of the morning has changed because I'm also adjusting to my husband's schedule. I have to say, one thing that's worked out way better than I would have hoped: My husband and I still actually love each other, and he's put up with me. He's a criminal-defense attorney and uses our house as his home base.
On creating new routines:
The first thing we do when we wake up is my husband and I always walk the dog, Willie. When we were going to the office, I would go to the gym or go to an exercise class a couple times a week. Now, I work out at home. We're those people who own a rowing machine and kettlebells. I try to be available starting around the same time I always was, which was around nine. Now, it's a little bit like Willie is my assistant. I took over the back bedroom, and when he comes in at about ten o'clock, if I'm not sitting there working, he taps his imaginary watch and he sits and stares at me. We've tried to make sure that our people really take a lunch from one to two. And then we end around five o'clock by walking the dog, bookending the day. We try to make that a time we don't look at our phones. We're getting outside, moving, and talking about other things. Everybody at the office will tell you that there's a point where I say, "Okay, I'm walking the dog now," and they know that for a half an hour, it'll be tough to reach me. You have to figure out ways of creating artificial boundaries between work and life now that the physical ones don't exist.
On telling a modern story with Bridgerton: 
Sometimes these things [period dramas] are really distancing because the reality of that world and time period overwhelms the commonality between then and now. From the very beginning, we never wanted the viewer to feel like they're being taken out of their world. We wanted constantly for the viewer to feel like they could relate. The joy has been to watch Chris [Van Dusen, Bridgerton's showrunner] create this world that feels thematically really modern because it deals with the limitations that society and class and breeding and culture and family all put on us. But at the same time, it's this delightful escapist realm where these incredible actors are playing out a world which feels very far away.
On making the move to Netflix: 
I loved working at ABC, and the work that we did at ABC and the shows continue. It's been great to have the access to a larger range of stories that we could tell. I was used to a pilot model, and the idea of writing and then filming all the episodes at once was a new experience. It's a different way of thinking because we wrote to commercial breaks. The storytelling rhythm changes. As opposed to network television, there's more of an immediate gratification. For the most part, you get used to people watching episodes as they're going. This feeling of launching an entire series at once is cool.
On the best advice she's received: 
It was on the set of 200 Cigarettes. We were down near the West Side Highway and it was the middle of the night. There was something I can't remember specifically, but it was something where I really didn't know what to do. Somebody came up and said, "Should we do X, Y, and Z?" and I pretended to vaguely know what they were talking about. This older guy, who I think was in props, came up to me and said, "Can I just give you a piece of advice?" He said, "Look, if you don't know something, admit it. Because someone will help you out." I never forgot that. If you bullshit your way through something, everybody will be able to figure out you bullshitted your way through and it won't be as good. And the great thing about people is that they love to share their knowledge. They love to tell you what they know. They love to help. It was one of the best lessons for someone just starting out.
On ambition and the drive to keep creating: 
There are always more great stories to tell. And you always meet people with whom you want to tell the stories. Meeting Shonda was obviously a gigantic gift of my life. First and foremost, it sounds cliché, but it is about the people. My mind continues to be both challenged and excited by the different minds to which I'm exposed. I love the moment where you pick something up, be it an article or a book, and you see something. Then there's the moment when you sit down with a writer and they see something which brings an entirely different element to it than you had even imagined. And then you get to see this thing come to life, and you get the amazing experience of being able to work with and watch actors. And then it becomes a show. There's literally never a dull moment, and that's what keeps me doing it — because there are always surprises. If it's a good story, if it's executed in a way that you love, you put it out in the world, hoping that other people see it. And in some weird way, by looking at that, they see you. And I think that's incredibly meaningful.