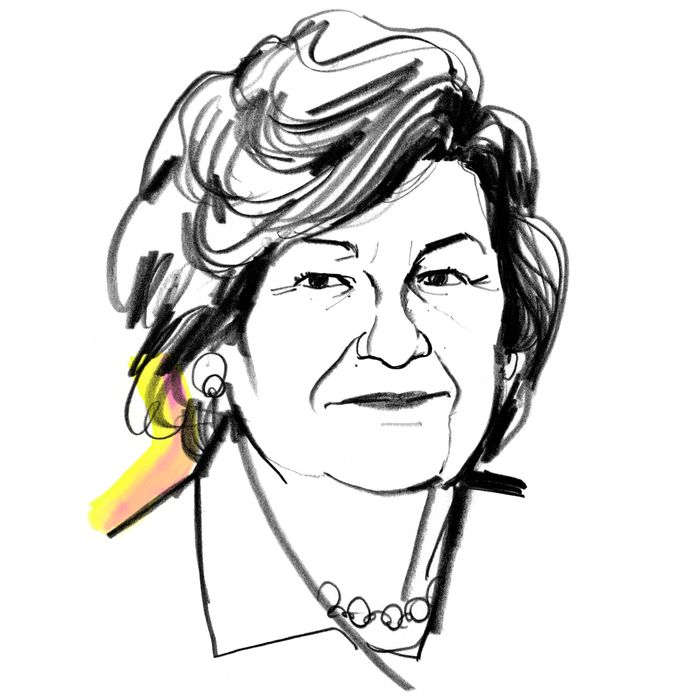 Illustration: Lauren Tamaki
On February 28, 2020, Dr. Jasmin Moshirpur got the call from New York City's Health + Hospitals health-care system telling her that Elmhurst would be one of the two city hospitals designated to receive COVID-19 patients. Dr. Moshirpur is both the the regional medical officer for NYC Health + Hospitals/Elmhurst/Queens and the dean for Elmhurst/Queens Programs at the Icahn School of Medicine at Mount Sinai. The 82-year-old had dealt with a number of crises over 50-plus years at the hospital, but coronavirus was like nothing she and her staff had faced before. Still, despite being in a high-risk category for her age, and despite being perilously short on resources in the early days of the pandemic, Moshirpur managed to navigate the hospital through the most difficult days of the pandemic, and says she and her team are now far better equipped for any further spikes in cases they may face. In October, Moshirpur was named one of Glamour's Women of the Year. Moshirpur was raised in Iran, and lives in Queens. This is how she gets it done.
On her morning routine:
My usual morning, I'll set my alarm for 6:00 a.m., but I'm always awake before that. I'm usually out the door by 6:45, and I get to work by 7:30. My first event here is to make a cup of coffee for myself so I can open my eyes. And then my schedule usually starts at 8:00. I have the most wonderful and extremely smart administrative assistant. With her, I go through our emails, send responses, go over my daily schedule. My day usually has several meetings — meetings with our executive director, our chief of nursing, and the COO of the hospital. And then we go through every department, what their routines are, what their problems are. And a good part of my day is spent on quality assurance and patient care. But I wear another hat too, as a dean for the Mt. Sinai School of Medicine, and in that role I am responsible for overseeing the education and the training of the residents.
The most important lesson she teaches her students:
My previous position was as the director of Obstetrics and Gynecology. I was responsible for the entire education of the students within that particular rotation. The first thing that I always taught the students and the residents was to listen to the patients, and believe that every patient is a member of your family. How dear they are to you. Respect the patient, value the patient. They put their lives in your hands, and as a physician you're responsible for their well-being.
On the overwhelming early days of the pandemic:
The first week of March, the number of patients was only a handful. But by the second week, we were really bombed. At one point there were over 500 in inpatient care, and our emergency room was full at all times. As a tertiary hospital that receives trauma patients, we were accustomed to acute cases, but the number of patients was overwhelming, even for our staff.
It was a tough experience for us because we received the patients when they were far advanced into the disease. Most of them came to us when they were not able to breathe by themselves. And at the beginning, we did not have enough respirators or ventilators for the number of patients. So the impact of the severity of the disease was a major mental problem for my staff. As a physician, as a healthcare provider, they were used to always being able to help the patients to their best knowledge and ability. But here, you were not even able to exercise that, because the patients were far advanced beyond what we could do for them. This was the most depressing for our staff, to not be able to really take care of the patients well.
On supporting her staff during a stressful time:
From the beginning, we, especially our Department of Psychiatry, realized that the community and our staff would greatly benefit from a consultant team that they would feel free to talk to. And also, we had to figure out a way to communicate with their families. The patients did not have any visitors, and there were no visiting hours for families during COVID. That had a major depressing impact for the staff and for the families of the patients. So a team of our physicians and nurses and psychiatrists and psychologists got together and made a way for patients to see and talk to family through phones or tablets, and for family to get feedback from our team on a daily basis about the progress of their loved one in the hospital.
On showing up to work during the pandemic:
My children were really encouraging me not to come to work. But I always think that there are more important people on my staff who come to work, whose families are more dependent on them than mine. They have small children, husbands, sick parents at home. If I expect them to show up and take care of our patients, then I cannot stay at home. So I try to emotionally prepare myself every morning, so that I might be able to help the community, and also, I might be of some moral support for my staff. I have to be there.
And the hospital worked as a team. From housekeeping, to our executive director, to the the administrator, to the nursing leadership … everybody worked together. There was no hierarchy during that period. My directors of services, they were sometimes working like clerks or transports in the hospital. That's how the team worked together and moved the patients. And we're all so proud and happy that we were able to save a good number of lives here at Elmhurst.
On facing another peak in cases:
I think not only me, but my entire staff is well-trained, well-experienced, and well-planned for if another attack. We are fully equipped. We have a minimum 90-day supply of all PPE. We doubled and tripled the number of our ICU units, so if we get more acute units, we have respirators, we have ventilators. And our nurses and staff are fully trained to work in ICUs. I feel more relaxed and confident that we would be providing better care to our community than we did in the beginning of the pandemic.
This interview has been edited and condensed for clarity.