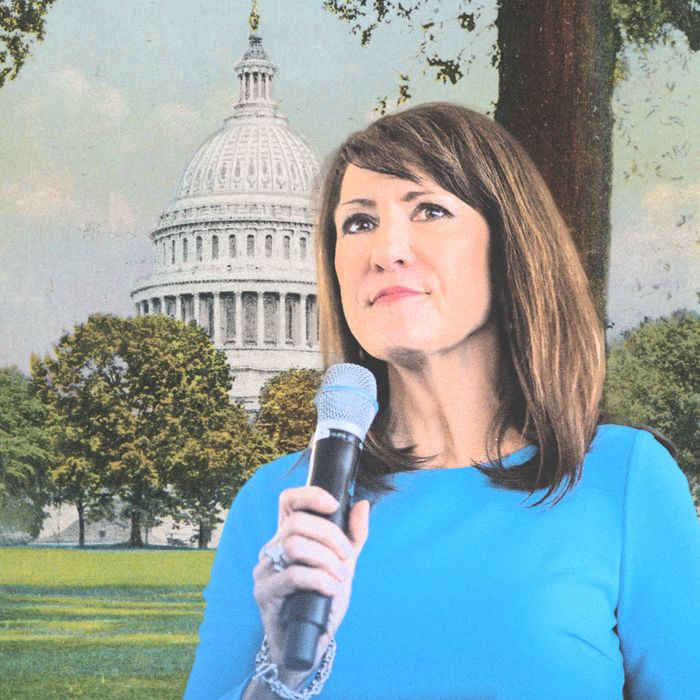 Photo-Illustration: by The Cut; Photos: NYPL, Marie Newman for Congress
In our new limited series "How I'll Get It Done," rising progressive stars tell the Cut how they plan to fight for a better future.
When Marie Newman narrowly won her congressional primary for Illinois's Third District in March, it was a rare bright spot of hope in a grim year. Her opponent, Dan Lipinski, was one of the most staunchly conservative Democrats in the House: He proudly opposes abortion, used to oppose gay marriage, and voted against the Dream Act. An eight-term incumbent, he inherited his seat from his father, who had held it for 22 years. Newman, meanwhile, has stellar progressive bona fides and ran on them proudly: She supports Medicare for All, the Green New Deal, and was backed by the Justice Democrats and Planned Parenthood Action Fund. AOC and Bernie Sanders endorsed her; Lipinski, meanwhile, had the backing of Establishment Democrats, including Nancy Pelosi.
It was an uphill battle, one that Newman actually lost once before, in 2018. But she kept organizing, kept fighting, and took the seat. Now, as she's heading to Congress for the first time, the Cut caught up with her over the phone to discuss what she hopes to accomplish first, the "cruelest of lessons" the pandemic taught us about health care and inequality in America, and the best advice she has gotten so far.
How are you and your family preparing for you to go to D.C.? 
My motto in life is always: Go with the flow and adapt, adapt, adapt. We've gotten a lot done over the past several weeks with hiring staff and making sure that everybody is briefed and trained. It's all the stuff a new member of Congress does: get your district office ready; get your D.C. office ready; learn all the rules, of which there are a lot; and figure it out.
I'm a big fan of D.C. I used to be a management consultant and I came here a lot, so I was always a fan. My kids love it here. Both of them are in college, so it's not scary for them. Maybe they actually prefer for me to be here [laughs]. My husband will probably come out frequently.
When it comes to the work, what are you most excited to get started on?
The pandemic, I believe, taught us the cruelest of lessons. Once the pandemic hit in earnest, we realized our health-care system is far more broken than we ever thought. We found out that about 85 percent of our economy is incredibly fragile and that the indicators we use for economic assessment are stupid. It drives me crazy when people say, "Oh, the stock market is doing well." Well, that is about one of 97 indicators we should be looking at. Until the '90s, we didn't even include it in the top-ten indicators, by the way. It's ridiculous.
The other critical issue, as the pandemic showed us, is that we have absolutely got to stop kicking racial equity down the road. I don't know how much clearer it can be. Providing health care for all, making sure that everybody has access to banking — I'm a big fan of postal banking — making sure that we have universal child care, that we make education equitable across all Zip Codes and not just some … all of these things are really critical. And there has to be a green stimulus package that starts to solve how we have beat up this planet for millions of years and bring it back to a place where it's safe for my kids to breathe.
Medicare for All is a really important part of your platform, but it's still controversial, even within the Democratic Party. How do you plan to navigate that?
After the pandemic, a lot of people are supporting Medicare for All now — a lot more members of Congress. I think they realize, Wow, we have a good system in place, an existing structure called Medicare. It's not perfect, but it's working pretty well. We can make it much better. And we can roll it out methodically. But as we're migrating over, we should prop up ACA, or Bidencare, or whatever it's gonna be and make sure everybody has as much care as they can possibly receive to protect folks, particularly given the pandemic.
But we should migrate over in pieces. One of the things I've suggested is that we have a triad of bills that moves us over time. Americans do not like it when you shove things down their throats. What you do is you tell them "This is step one, and this is how we're going to do it, and it's going to be absolutely fine because we're going to do it in a very logical and measured fashion." Guess what? People typically like that because they know what to expect, and they know how to do things. So let's prop up the ACA, or whatever it's going to be, as we migrate over to health care for all over a period of time.
House Speaker Nancy Pelosi endorsed your primary opponent. What challenges do you foresee when it comes to working within a party that seems increasingly divided between its centrist and progressive wings?
We are not all in those buckets. I've got to tell you: I just talked to someone who frequently gets called a moderate and is really excited about postal banking and universal child care. I talked to someone who people call Über-far to the left, and she's not all in on Medicare for All. So these labels are honestly stupid. It's lazy thinking, for me. What I tell my kids is: When you stereotype, or you put someone in a bucket and that's all they are, then that shows you have no ability to be creative and a thinker. What I would say is: Let's focus on results and delivering. And if we need to herd some cats, let's do it.
There was a discussion that got leaked, and some of the members were frustrated with their elections [blaming Democratic losses on leftist messaging]. I'm like, Yeah, they had a family discussion. You should see me and my brother at Thanksgiving — it's ugly! Like, good Lord, let us have a family discussion. The Democratic Party's a family. We had a very plain and candid discussion, and we made a great list that day of "Here are the things that worked, and here's the things that didn't work." I'm a former management consultant — let's take the things that didn't work, reverse engineer them, and get to work. Everybody needs to stop whining and pointing fingers, and that's it.
As you've been getting ready to take your place in Congress, have you gotten any particularly good advice from anyone?
I did get the best advice ever, and that is, sadly: Wear comfortable shoes. I like my heels. I like them all day long and twice on Sundays. That is a bit of a sadness for me, that I'm going to have to start wearing more comfortable shoes, but I think I might be able to find sneakily beautiful, comfortable shoes.