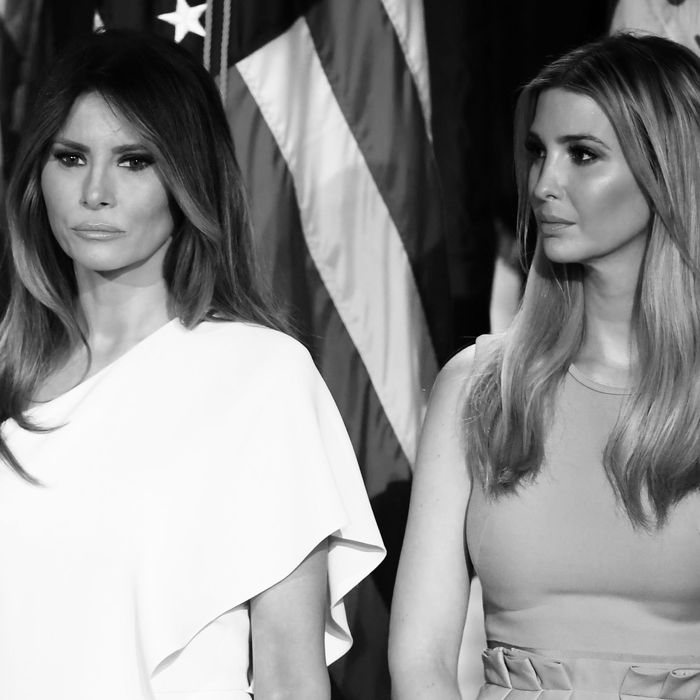 Not particularly warm energy, here.
Photo: Jim Watson/AFP via Getty Images
Ivanka and Melania Trump are not known to be particularly fond of one another, that's for certain. According to The Art of Her Deal, a biography of the First Lady, much of this palpable animosity can be traced back to the early days of the Trump administration, when Melania was still living in New York with Baron — and Ivanka was apparently eying the East Wing, the domain of the First Lady. In one instance, Ivanka reportedly suggested renaming the "First Lady's Office" to "First Family Office" — and so set the tone for the next four years.
Now, we have new insight into some of Ivanka and Melania's early days as First Daughter and First Lady. In the latest episode of the podcast The New Normal, Stephanie Winston Wolkoff — Melania's former close friend and senior adviser, and author of the tell-all book Melania and Me — confirmed the narrative that Ivanka "impinged on Melania's duties while overstepping her rank and boundaries."
For example, she said, "We called [Ivanka] the serial poacher," due to her habit of trying to hire people that Melania was hoping to bring into the East Wing, including Kayleigh McEnany and Mercedes Schlapp. "It was deceptive." In Wolkoff's estimation, "the princess wanted to render Melania irrelevant," and Melania resented her for it. But "what was particularly galling" to Melania and the rest of the East Wing, Wolkoff continued, was that "Ivanka and Jared were no more qualified to be engaged in any governing of the country than she was."
Seems like Ivanka fits Wolkoff's description of a Trump: "A Trump is a Trump because they are authentically and unapologetically skin deep, and also self-serving."