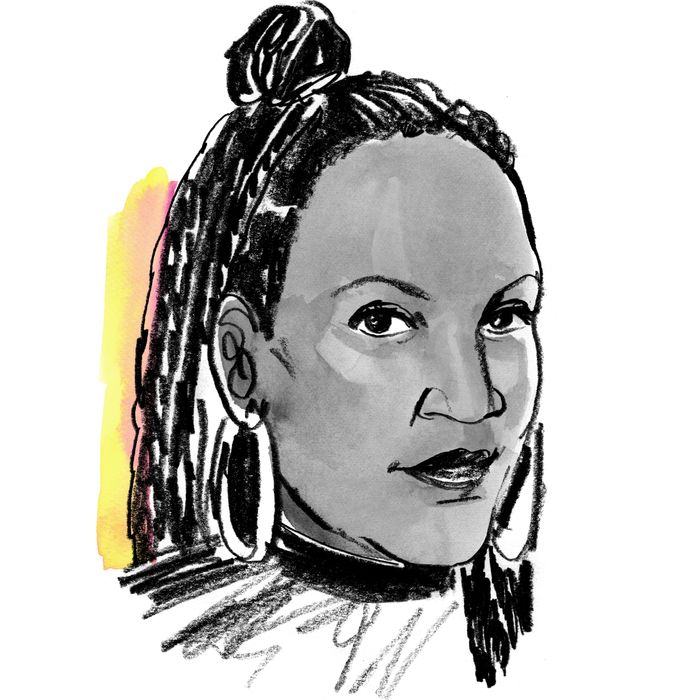 Illustration: Lauren Tamaki
Tricia Hersey believes rest is resistance. She started napping as an experiment for her own well-being as an exhausted Black woman in America; she was trying to save her own life and wondered if rest could help accomplish that. In 2016, Hersey founded The Nap Ministry, an organization that explores the liberating power of naps, where she hosts nap events, writing workshops, and lectures. She has 20 years of experience as a dynamic speaker, activist, maternal and child health educator, teaching artist, and program director. Born and raised on the South Side of Chicago, she holds a bachelor of science degree in public health from Eastern Illinois University and a master of divinity from Emory University, Candler School of Theology. Hersey now lives in Atlanta, Georgia, with her husband and her son, nicknamed the Dream. Here's how she gets it done. 
On her morning routine:
As I've been deeply involved in rest practice and practicing what I preach — I've been listening to my body. It depends on what I have on my calendar, what my son needs, how late I was up the night before. I go with the flow of my body. But I always drink a gallon of water a day. I have a huge water container by my bed that I fill up at night to really hydrate myself.
I love to take baths most mornings. It's a ritual to get up and take a nice hot bath. Outside of The Nap Ministry, I would love to have a Bath Ministry. It's a place of peace and silence to ground yourself. I love coffee. I'll make tea, coffee, check in on my son, and make breakfast. I like to sit in silence. I'm big on daydreaming. When I talk about The Nap Ministry, it's more than naps; it's also a way of slowing down and reclaiming our time. Resting looks like daydreaming, silence, slowing down, and naps.
On nourishing foods and reads:
I love kale. I put kale in everything. I'm into fresh fruit; my favorite is bananas and pineapple. I'm in Georgia and have lots of friends who are Black farmers. I love eating fresh things; my neighbor gardener gives me fresh vegetables. I also love teas — we used herbal teas at our nap events (before COVID-19). They're healing teas that are formulated for rest. I don't drink soda or juice.
I have been deeply into Afrofuturism. It's one of the things that ground the work of my work. Rasheedah Phillips writes about Black Quantum history. She's the founder of theory around Black women in time. Right now, I'm reading Space-Time Collapse, Vol. 1 — it's published by her publishing company, AfroFuturist Affair. I also love bell hooks's All About Love. Those are the two in my tote bag.
On the pandemic exposing people who can't sit at home with their own thoughts:
If they decided to stop, it would be a deep place of healing to uncover individual and collective trauma. This selfish behavior to think I have to go out and get joy from externals is all part of the brainwashing this system has done to us. It has stolen imagination to dream and hope and not believe in slowing down to connect with our own selves. This pandemic is revealing and exposing people's deep collective trauma under capitalism and white supremacy. We need to evolve ourselves to find joy.
On supporting exhausted Black women:
When I talk to Black people, it's harder for them to sleep. Studies show there is sleep deprivation in the Black community because of white supremacy. Poverty, healthy disparities, just going to the doctor: All these burdens America has placed on us makes it hard to get a full REM cycle of sleep. It's been hard to tell Black people that they have been socialized to believe you have to do more and work harder to equalize yourself. We're brainwashed by parents and communities not to be lazy; you have to be better. It's a disservice to paint it that way because it's not true. It's a lie. It adds to the sleep deprivation that is mental and psychological that we don't deserve rest.
On healing:
The concept of rest imagines a new mental space. It's rooted in liberation and justice. It's more than a nap; it's a pushback and disruption to help make people see themselves as divine human beings. It's about community care: the idea of communal care, mutual aid, and interconnection with each other. We offer care to people who live in a place that doesn't give them that care. We all have been traumatized by the systems in place. When people are mean and angry, I really just see it as an indication of deep trauma of their own self. White people need to do that spiritual and ancestral healing too, learn of their lineage, of what their place means in the world. Not just read a book. They have to change and give up power. They have to do it on their own. They have to interrogate themselves.
On feelings of isolation and finding meaningful community:
If I ran into a person at a coffee shop, work, lunchroom, and we just vibed with a head nod — to build on that is community. We think it's a large network of hundreds of people. But it can start with the person who feels you, knows your passions, and stays curious. I stay true to what I want to explore. I'm true to my passions, and people who have those same things can connect with me.
I dislike social media — it's not a safe place for Black people; but, it's beautiful when you can build a community virtually and connect with one person. I've made many deep friends and networks of people wanting to be heard. Once you start sharing an interest, you have to take it step by step. Even if it's just one instance of eye contact — that alone is the beginning to keep building and learning.