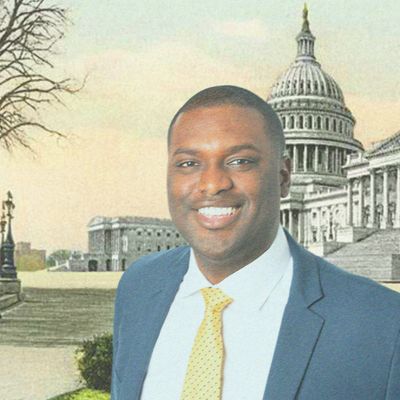 Photo-Illustration: by The Cut; Photos: Mondaire for Congress, NYPL
In our new limited series "How I'll Get It Done," rising progressive stars tell the Cut how they plan to fight for a better future.
It became clear that Mondaire Jones would make history in July, when he officially defeated six Democratic opponents in a crowded contest for the U.S. House seat in New York's 17th District. Jones, 33, pulled in just under 42 percent of the vote, effectively ensuring that after November's general election, he would be one of the two first openly gay Black men ever to serve in U.S. Congress.
Growing up — in Rockland County's Section 8 housing, in a family reliant on food stamps — Jones "never imagined that someone like me could run," he said in his primary acceptance speech. Jones's mother raised him with the help of her parents, holding multiple jobs and sometimes sending him to work with his grandmother when she couldn't afford child care. He went on to graduate from Stanford and then to Harvard Law after spending some time vetting judicial nominees for Obama's Justice Department. Before he launched his Congressional bid, he worked as an attorney for Westchester County.
Although his district historically skews center-left and includes a number of hugely wealthy residents (Martha Stewart, the Clintons, George Soros), Jones believes a progressive platform shaped by lived experience resonated with the majority of voters. He champions the Green New Deal, Medicare for All, universal child care, a $15 federal minimum wage, eliminating student debt, serious policing reforms and alternatives to incarceration, and court packing. Although he is not a Democratic Socialist, he earned the endorsements of Vermont senator Bernie Sanders and fellow representative Alexandria Ocasio-Cortez, who inspired his run.
The Cut spoke with Jones about paying two rents before receiving his first congressional paycheck, his top priority for his first day in Congress, and why he feels optimistic for the coming year. (This interview has been lightly edited for clarity.)
You're headed to Congress! How are you feeling?
I am feeling a sense of invigoration and gratitude. And perhaps surprisingly to some, a sense of deep humility because I do not feel like I deserve all of this attention and all of these praises that I've been receiving. I just wanted to represent the community that raised me, and I'm looking forward to the opportunity to do that.
How has it been preparing to head to D.C.? What has been the most surprising part of that prep work?
It's so helpful to have friends who are current members of Congress, who are really open with advice about where to live and how to survive financially before getting your first paycheck on February 1 of 2021. I will say, one of the more difficult things has been finances, because I have been unemployed since July 2019, when I quit my job as a lawyer for Westchester County to run, and unlike most people in Congress, I don't have significant funds. And I've now burned through my savings and am really making tough decisions about how to pay for an apartment in my district and in D.C., and how to get furniture for my apartment in D.C. I actually applied this morning to forebear on my loans until February.
I'll tell you the best advice I have, based on my own experience: If you're gonna run for United States Congress, make sure you have a bank account that contains savings that will allow you to survive for the duration of your campaign and then those few months before taking office and the election.
What is it like to finally be meeting all these people who you've maybe spent the past year or more now interacting with on Twitter and on Zoom?
It's been a dream. I am not the kind of person who typically becomes starstruck, with the exception of the first phone call I had with Alexandria, during which she said she was going to endorse me. I actually cried during that phone call. [Laughs.]
But other than that, I've had so many friends who were in elected office. I know that these people are human. [Laughs.] So it's nothing for me to be on a Zoom with House leadership and to be in a group text with members of Congress. 
I would find that very intimidating! But I also wanted to talk about orientation, which looked a bit different this year, in deference to public health and safety. And in Congress, there's a really strong ideological split about those things — people who do believe in conspiracy theories but don't believe in masks.
[Laughs.] There are a lot of people who don't believe in masks and a lot of people who don't know how to wear them properly on the Republican side, as evidenced by my experience during the first installment of new member orientation. But having said that, there are some Republicans I feel like I can work with. I've become friendly with Andrew Garbarino of Long Island, who is Peter King's successor in Congress. Like our predecessors, we're going to work together to restore the SALT deduction and work together for middle-class families in our respective districts. And he's not the only Republican who I've had positive conversations with. I'm excited to identify the areas of common ground.
I also saw you tweeted about people continually confusing you for Jamaal Bowman.
Oh my God, it keeps happening, actually. [Sighs.] So, I think that white people should really commit to learning the differences between Black people, in terms of how they look and their names. [Laughs.] But I'm grateful to be part of introducing folks on the Hill to the diversity within the Black community by being one of six new members of the Congressional Black Caucus in my freshman class.
When you were running, you centered your upbringing in your campaign. You talked so often about how your mom worked multiple jobs, your grandmother worked multiple jobs, and even with government assistance, it was still so hard to make things work. You talked about how your grandmother would bring you to work with her. Right now, the pandemic has really been squeezing women out of the workforce. And it's proving economically devastating for women. It's weighed particularly heavily on Black women. It's weighed particularly heavily on brown women. What is the most helpful thing that lawmakers can do for them right now? And how might we correct course long-term, if we can see that far down the road?
Well, due to the gaping gender gap in wages in our society, a $15 federal minimum wage would particularly benefit women. And so would a COVID-19 relief package that contains an extension of supplemental unemployment insurance benefits and aid for state and local governments so that they can fund essential services, including paying our teachers, many of whom are women — they're contractually promised salary increases.
And then we've gotta do things like universal child care, which will especially benefit women like my mom. Most single parents are women, and so they are most in need of programs like universal child care — which are infrastructure programs, as Elizabeth Warren so rightly described during the Democratic convention. And these women, these single parents especially, but just women generally, also stand to particularly benefit from programs like Medicare for All, so that not just themselves but their children are covered with quality health care that is lifesaving and that won't bankrupt working people in our society.
You touched on a bunch of immediately crucial policies there. What is the single most important thing for Congress to tackle come January?
COVID-19 relief. People are dying. And I don't think that this is appropriately described as a "stimulus" — this is about the survival of people. Not just to make sure that people don't succumb to COVID-19, but also to make sure that people who are living paycheck to paycheck, or who are just outright unemployed right now, have the financial resources they need to cover the cost of living. Including putting food on the table for themselves and their family members.
Are there any final thoughts you'd like to share?
I am optimistic about 2021. We are going to have a transformation in leadership of the executive agencies at the federal level, and that will save lives. It will involve the distribution of a vaccine to everyone who needs it, and we are going to lift ourselves out of this economic devastation and this public-health crisis.