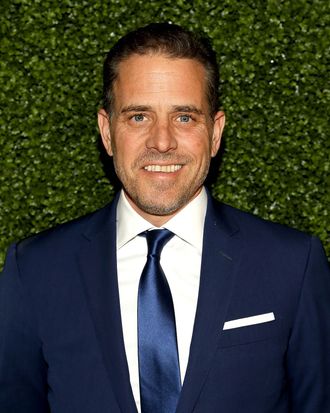 The artist Hunter Biden.
Photo: Paul Morigi/2016 Paul Morigi
The painter Hunter Biden, whose oeuvre I'm sure you're familiar with, is reportedly getting ready to debut his artworks to the world. According to Page Six, Biden may soon be represented by the Georges Bergès Gallery in New York City, with a solo show planned for sometime next year.
Oh, sorry, did you not know Hunter Biden does paintings? According to the New York Times, which profiled him earlier this year, his ink-blowing practice "is literally keeping [him] sane" these days. President-elect Joe Biden's youngest son has a tumultuous history: His business dealings, particularly in China and Ukraine, have attracted scrutiny. He dated his late brother's widow, and during that time, also fathered a child with another woman. He has struggled with substance abuse, and as of earlier this month, his "tax affairs" are under investigation by federal prosecutors in Delaware and the IRS.
Speaking to the Times, Biden described his arts — alcohol ink layered onto Japanese Yupo paper in microbial-looking designs — as a form of therapy that helps him manage his addictions. The process "puts my energy toward something positive," he explained. "It keeps me away from people and places where I shouldn't be."
Still, he added: "For years I wouldn't call myself an artist. Now I feel comfortable saying it." And now it appears he may have a gallery.
I know what you are thinking: Do Hunter Biden's paintings match the skill of, say, the masterworks of George W. Bush? Well! Beauty is in the eye of the beholder, although in an email to Artnet, New York's critic Jerry Saltz described the overarching aesthetic as "Generic Post Zombie Formalism illustration." But this is just one person's opinion! Possibly you will have the opportunity to judge for yourself in 2021.