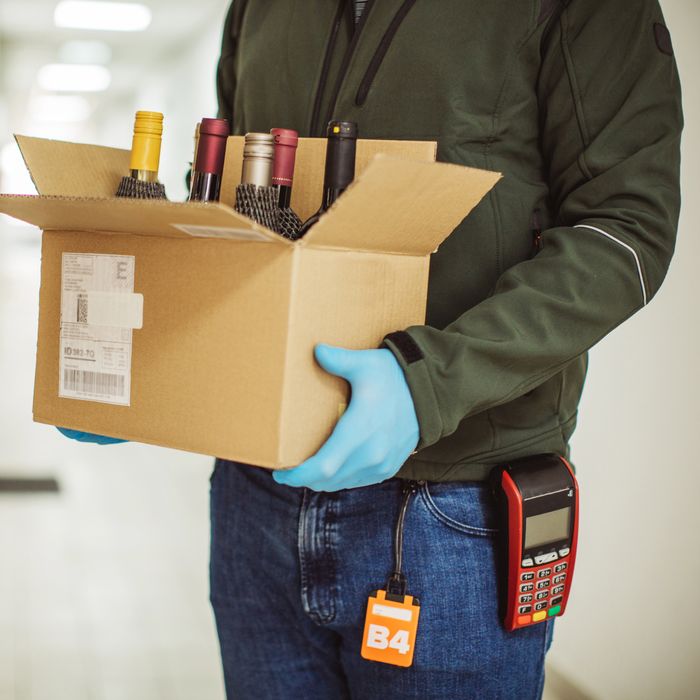 Photo: svetikd/Getty Images
The unemployment rate is still double what it was a year ago. The job market is dismal. And with a long, COVID-filled winter ahead, many Americans are being forced to think outside the box for work. A recent study found a large increase in the freelance workforce since the coronavirus began, indicating a sudden influx of gig workers and entrepreneurs. While side hustles are often a poor substitute for a regular paycheck, some people have figured out how to turn them into moneymakers. Here, five people who lost work in the pandemic share how they've gotten creative with supporting themselves.
Tara, cellist turned Zoom music teacher
I'm a professional cellist, and before the pandemic, I was constantly traveling all over the place from gig to gig. I play the traditional wooden instrument, but I also play the electric cello, so I had a wide variety of jobs — corporate events, album recordings, other performances. Then, last March, everything was just canceled, canceled, canceled. Some gigs were postponed at first, but eventually everything was gone. It was scary to have that expected income wiped out. And watching all of my musician friends go through the same thing really compounded that anxiety. I remember seeing Facebook post after Facebook post about people losing their jobs on Broadway and in orchestras all over the country.
I had taught music before, but it was never my main source of income. And I had certainly never taught online. But once all my gigs got canceled, the ability to teach music on Zoom was a godsend. And there were a lot of people looking for lessons, too, because they were stuck at home and wanted to occupy themselves. I immediately picked up a couple of new adult students. I also taught classes to kids through school programs. Because no one was going anywhere, a lot of students wanted to take multiple lessons a week. And since I'm not commuting or performing, I had time to do it.
I like teaching, and I feel very lucky. I've been able to make the same amount of income, if not more, than I was when I was performing. But I do miss playing music live, and teaching all the time is not something I ever set out to do. I have this conflict of being very thankful for this and also wanting a break from it and feeling sort of burned out.
At the end of the summer, some of my performing gigs started picking up again. I played at a couple of outdoor weddings in August. And I've done some recordings, too, usually just me and one other person, distanced from each other. Yesterday I did a collaboration with a soprano and a poet, and it was just so nice to play "real" music live. Ultimately, I'm not sure how the balance will shake out between teaching and performing in the future. It's forced me to think about where I want my work to go, once I have more of a choice.
Marquis Williams, wine buyer turned owner of the wine club Highly Recommended
I started my wine business, Highly Recommended, a few years ago to sell wine to restaurants. I was a wine buyer for a wine shop — I worked my way up over 12 years from being a stock boy — and eventually I got the idea to create cool wine lists for people like me. I'm not a sommelier; I just pick cool stuff that I think my friends would like. People want to buy really good wine without being demeaned or spoken down to. A lot of wine people can be pretentious and speak a whole different language, and I'm the opposite of that.
Highly Recommended started out as members only, and I didn't publicize it at all. If restaurants wanted to buy the wine I picked, I would just place the orders for them directly through the wine importer I work with. But then, once the pandemic started, the restaurant business got really slow. I wasn't panicking, exactly, but it was clear that I wasn't going to be able to live how I used to — I'd have to scale back. But then I was like, What if I try something new instead? That's when I started posting about the club on social media for the first time. Not promoting it, exactly, but making it more public.
People started messaging me, asking to be part of the club. It was just a slow trickle at first. Then I got the idea to put together PDFs of six to 12 wines at a time, with descriptions I'd written and the price. I'd email or text it out to the member list every few weeks. Members have to choose at least two wines, pick their delivery date and time slot, and then Venmo me. And I have four delivery drivers who drop off the wines. It's very simple. Coming up with the PDF format was a big moment. It's easier because nobody has to click a link, and they can forward it to other people. And that's when things really took off.
This business model of working with individuals is way more effective than working with restaurants. The pandemic forced me to hustle and figure it out, but this is the way I'm going to do things from now on. I've also started teaching wine classes on Zoom, which I never did before. The classes are very lucrative. For about 45 minutes of work, you get 30 or 40 people, sometimes more, buying wine. And people are buying wines at higher price points, now that they're drinking more at home. It used to be that no one wanted to spend more than $15 on a bottle of wine. Now they're buying $30, $40 bottles of wine from me regularly. I'll put a $100 bottle of wine on the list just for fun, and someone will buy two cases of it.
In the future, when things open back up more, I plan to keep doing things this way, but I also want to do more collaborations with restaurants. And I have my own wine coming out next summer. I know I've been lucky. A lot of people are not doing well right now, and I try to help them out whenever I can by giving them jobs. If someone asks for a rush delivery, I'll hire someone to do it who I know can't find work. I've hired extra delivery drivers. I hope to hire more people next year when I keep expanding. I'm helping people out where I can.
Jes, TV set designer, and Madison, nurse, now selling plants as co-owners of Cactus Cart
Madison: Before this, I was working as a pediatric behavioral-health nurse and quit my job to go back to school to get my nurse-practitioner degree in January. I was intending to apply for new jobs once I got settled in classes, but then COVID started and a lot of places weren't hiring for the kind of work I do. My former employer actually did big layoffs. Jes was going through a hard time, too, because her dad was sick with cancer. We both decided to become quarantine buddies because we live a few blocks from each other.
Jes: I work in children's-television production, and my last gig finished just when COVID was starting. After that, all production stopped, and jobs just weren't available. As a hobby, I've always loved going to thrift stores and finding old little junk treasures. I got Madison into it too, and we would go together. We also both love plants, and we got into finding unique containers for them.
Madison: After a couple of months, our plants started swallowing us. We also didn't have jobs, and that's when we got the idea for Cactus Cart. The first time we did it, we were like, "Let's just take a little bar cart, load it up with cacti in cute containers, and take it to the corner and see what happens." Some of our friends came to hang out with us. Then people in the neighborhood just started coming by and buying plants.
Jes: We had no idea how big it would get. At first, we sold out so quickly that we could barely keep up. It's our full-time job now. Every day, we're either hunting for things at thrift stores, buying plants, or managing orders. We did a really cool virtual flea market this past weekend. We were like, "People probably aren't going to buy much because it's online." And then we sold out. We have a bunch of holiday orders too.
Madison: We're still trying to figure out some of the logistics in terms of growth. So far, our business has been pretty local. We're not sure if or how we're going to do mail orders or anything like that.
Jes: Cost-wise, there's not much overhead. Especially at the beginning, when we were just selling our own stuff. It's definitely making money now. We've been reinvesting most of it back into the business, but we can both see how we could pay ourselves going forward. Buying new plants is the most expensive part. And we had to buy grow lights for propagating. Time-wise, it's all consuming. But it also doesn't feel like work.
Madison: Honestly, it's a little scary how much I love doing this. We've talked a few times about like, "Could we make this even bigger so that we don't have to go back to our jobs?"
Jes: The only problem is that both of us are running out of money a bit now. I've been receiving the pandemic unemployment assistance, and I had to take some money out of my 401(k) too. I know I'm lucky that I had that stashed away, just to hold me over until production stuff starts up again next spring. But the business is going really well. Last week, we were supposed to take the cart to a flea market, but then it was canceled because of [rising case numbers]. We were bummed because we had all these plants ready to sell. So we set up our cart on a local street corner, like we've been doing, near the dog park, for three hours in the afternoon. We sold 50 arrangements and made about $1,000. And that was just from foot traffic on a street corner.
Tim, former musician turned Adirondack mountain guide
I'm a singer, songwriter, and multi-instrumentalist, and I used to be in a couple of different bands. Back when things were normal, I was performing all the time. I was flat-out busy.  I also was making enough money to support myself in New York City, and I managed to pay off my student loans. I always figured that if I could pay my bills and save some money for the future playing music, I have made it.
Then, a little over a year ago, several of the bands I worked with started slowing down for different reasons. At the same time, I had begun to think about putting music in a different place in my life. I'm almost 40, and the industry really favors youth. I was starting to get a little bit cynical and jaded about it, and I didn't want that to consume me.
I remember talking to one of my then-bandmates about what we'd be doing if we weren't playing music. And I was like, "I think I'd want to do something outdoors." I grew up near the Adirondacks, and I was a guide for a summer camp in Ontario when I was a teenager. After I talked to my bandmate about it, I thought I'd just see what it would take to be certified as a professional guide in New York. I took the guide-license test, just for shits, to see if I could pass. And I did.
At first, I figured the guide license would just be something to have in my back pocket, in case I ever wanted to get a job at REI or take some friends camping or something. But then, through Instagram, I saw that an Adirondack guide I follow was looking to hire. I messaged him, and he gave me a couple of trips to lead that summer. It made me think more seriously about moving away from music altogether.
Once the pandemic did hit, and the music industry totally shut down, I didn't know what was going to happen with the guiding stuff. But then, suddenly, it just blew up. The guy I work for called me in the early spring and was like, "This is going to be the busiest summer we've ever seen." A lot of camps were shut down, so parents wanted to send their kids on guided outdoor trips. People didn't want to fly anywhere, but they could drive to upstate New York and go for a weeklong paddling expedition. We were careful to take social-distancing precautions so that everyone was safe, and it was incredibly successful. The whole outdoor industry was just booming, especially in this area. I had a ton of work, and I also just really enjoyed it.
At the same time, I noticed that I started saying "I used to be a musician in New York." I think that without the pandemic, it would have been a lot harder to make that shift decisively. I wouldn't say that I'm done with music entirely — I still want to write and play and record — but it's not my main identity anymore.