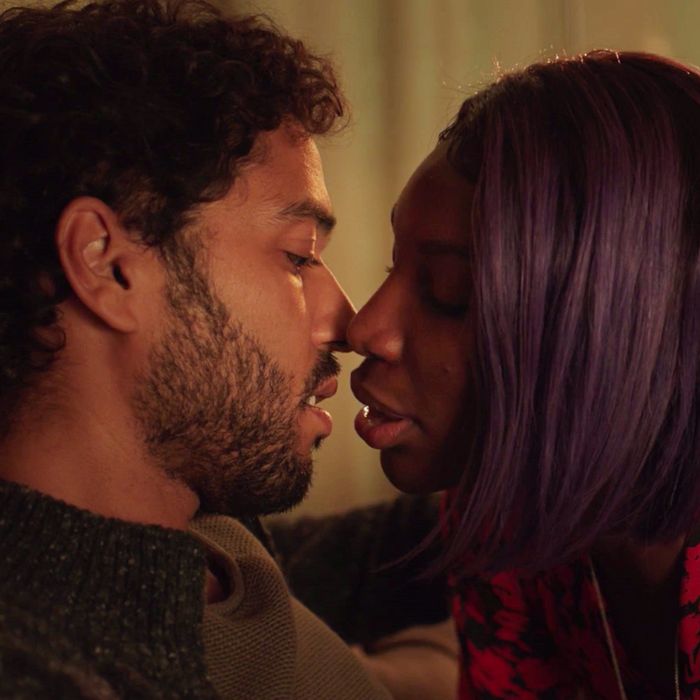 There were so many good TV moments in 2020: Connell's big therapy cry in Normal People, the final kiss of We Are Who We Are, Beth beating Borgov in The Queen's Gambit. But the one scene I simply cannot get out of my head is the blood-clot moment from I May Destroy You.
There are so few period moments in cinema, and most of them are horribly done. They're either gory — blood gushing down an unsuspecting young woman's leg ( "What's happening to me?!" she sobs). Or they're inaccurate — a perfect, Sharpied red blot on a gauzy white pad. That's not what periods look like! Sometimes the blood is brown, congealed, chunky. And, yes, there are blood clots!
And a blood clot is the star of this particular scene. In it, our heroine, Arabella (Michaela Coel), is about to hook up with Biagio, (played by Marouane Zotti) a handsome Italian drug dealer, when she realizes she's on her period. She informs him of this and he says it's fine, so they lay out a towel and proceed to do the thing. Then, it happens:
First, Biagio takes off Arabella's underwear, panty liner and all. But when he goes to finger her, she gasps.




"Can I take this out?" he asks. She assents, and — his expression impassive — he pulls out a bloody tampon, setting it aside. Then he goes to finger her again but pauses.




"Oh, what is that?" he asks. They both sit up, leaning over something in his hand. "Oh, it's a blood clot," says Arabella, resigned.




"Oh," he says, lightly, curiously. "I've never seen anything like that before," he mutters and gently places it on the towel between them. "Oh, so soft," he continues, prodding it. "When it comes out, can you feel it?" he asks, now holding the clot close to his face like a child inspecting a caterpillar.
It seems silly that, despite all of I May Destroy You's profound, soul-shaking glory, this is the scene that has really stuck with me. But there's just something so wonderful about seeing a soggy, bloody tampon and its accompanying gooey blood clot on TV. To have it acknowledged onscreen in a moment like this was surprising and delightful, like good art should be.
And while the blood-clot scene didn't get a lot of attention, it's one that felt integral to the show as a whole; in I May Destroy You, sex is messy, un-sanitized, the encounters blurry and ambiguous. Sure, Biagio ended up being an asshole, but to see him pull a blood-soaked tampon out of a woman — without being remotely fazed by it — is a quietly groundbreaking moment in a show that was full of them.