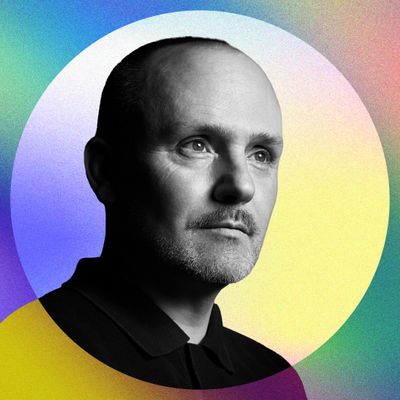 Photo-Illustration: by The Cut; Photo: courtesy of Parfums Christian Dior
A Beautiful Life is a new column about the people who are shaping the world of beauty.
Peter Philips received his first big break thanks to Mickey Mouse. A graduate of the Royal Academy of Fine Arts in Antwerp, Philips frequently collaborated with fellow alumni Raf Simons and Willy Vanderperre. One Sunday afternoon, during a test shoot with Vanderperre, he created one of his most iconic images on a creative whim.
"The styling was dark, gloomy, and I said, 'Okay, can I do something?'" he asked. "I locked myself in the kitchen and, entirely freehand, drew it." It was a grinning Mickey Mouse that Philips then superimposed on the face of buzz-cut model Robbie Snelders. The now-famous image became the cover of the 0 issue of V magazine and one of the defining moments of Philips's career.
Not wanting to be known as the "cartoon guy," Philips has refrained from drawing on too many other models during his career in beauty (though he once sketched a Batman on a model's chest for Steven Klein). Instead, he went on to be "the Chanel guy" (as creative director of the brand, he's the reason we all wore black nail polish in the 2000s) and, now, "the Dior guy," serving as the creative and image director of Christian Dior makeup. In 2019, Dior made so much money that it now qualifies as a "megabrand," in large part thanks to the growth of sales from Philips's cosmetics division, where he launched products like the 40-shade Dior Backstage range and Dior Lip Glow.
But, really, more than anything, he's the color guy. Philips calls color his passion. His sock drawer is even arranged in a gradation, he tells me. And just this past year, Philips embarked on his most ambitious and colorful project yet: reenvisioning Rouge Dior, the brand's classic lipstick range.
Available in January, Rouge Dior will now come in 75 shades and be available in four finishes (matte, velvet, metallic, satin). It's gotten a sustainability makeover, too: The new formula will contain 95 percent natural ingredients, and the packaging includes recyclable components and a refill system. Philips says Rouge Dior will have a particular focus on providing nudes for all skin tones. "A lot of people think nude is a beige, pale color, but nude is not that. Nude, in a diverse world, is a whole range of shades. A nude, to me, is a shade which makes you feel naturally beautiful, like you're not wearing makeup."
The inaugural subject of the Cut's new column, "A Beautiful Life," Philips talked to us about the time he accidentally froze his face, the beauty trick Linda Evangelista taught him, and where he thinks beauty is going from here.
What's the wildest luxury beauty experience you've ever had?
I went to see a dermatologist for something related to my hand. And then I saw the whole menu and was like, Well, I am going to be 50 in a few months. Maybe I should do something to refresh my face. I did it, and I couldn't move it for six months. I looked like an egg. It was outlandish. But eventually it softened and looked really good. I'm not against it, and I don't hide it. A little injection of Botox can be a good thing if it makes you feel good!
Fill in the blank: Unfortunately, _______ is worth it. 
A few things popped into my mind. Unfortunately, avoiding salt is worth it. If you skip salt, it's really good for avoiding bags under your eyes. I don't eat much salt for blood-pressure reasons. Linda Evangelista once told me that she never eats salt before going on a flight or during it. You get puffy after. Unfortunately, Botox is worth it. It's poison, but if it's well done, it's really worth it. Unfortunately, not eating bread is also worth it.
Is beauty the same thing as self-care?
Beauty isn't necessarily only makeup. Washing your hair, taking a shower, shaving, moisturizing, time spent on yourself is self-care. So, yes, absolutely. It's important to feel good. When you look good, you feel good.
Something I learned from my early days, from our Japanese region, is how they approach makeup. For them, makeup is a whole ritual. It's very organized, almost like a tea ceremony. They see it as taking care of themselves, but also they do it because it's respectful to the people who look at them. It's giving time for yourself, but it's a two-way street. But at the end of the day, you do it for yourself. It's a give-and-take of how much you want to do.
Has the way you think about beauty changed during the pandemic?
I have a very balanced view of beauty. It's not about extremes; it's about the right formulas and tools for each individual. The balance might have shifted, but, in essence, my vision has stayed the same.
I still think of beauty as a tool that every woman and man can use to their own needs. Some might want to use it to improve their appearance, self-esteem, self-expression, or to be empowered by it. Maybe now it's less about the cosmetic part and more about the self-care part.
What do you wish more people understood about what you do?
My job is full-on. I am involved in every aspect in this business, from talking to packaging to development to imagery. I'm not a chemist, but I'm involved in the process with the formula. I can give my opinion on shooting, the final product on the counter, and the campaign. Some people might think, Oh, he just does the makeup or is just the spokesperson. I don't mind. I love what I do. But it's not about me, but the product.
Also, nothing I do is a solo show. There's always a whole team behind me who helps make sure it comes true.
What was the biggest "no" you ever heard in your career, and what did you learn from it? 
I've always been freelance, and when you freelance, there will always be "no." But I also say no! I get options for shootings, and if I don't feel the photographer or client, there's a no from my side.
Then there are clients who say no to me. That's a humbling place to be. But for every no, the next one might be two yeses. No is not the end — it just means something might not be right for you at that point.
Where would you like to see the beauty industry go from here?
I hope it becomes cleaner and more fair. I hope that awareness is not just a fluke or trend. If you look at the last 100 years, everything is getting better.
Greta Thunberg once said, "Previous generations ruined it for us when they discovered the sky's the limit." That's how I grew up — the idea that how you create and express yourself is the limit. If you think it's the limit, it's very selfish. You ruin it for the next generations. It's good to step back. It's not necessary to see the sky as having no limits. It's much easier to destroy something than to build it.
It's a big machine here at Dior. There's a lot of jobs at stake. A lot of people earn their living in this business. If you change something, it has to work for everybody and not destroy this mechanism but evolve it. Step by step, we are becoming more sustainable and clean. With every launch, we are getting closer and closer. For example, with the Rouge Dior launch, we're using refills, using natural ingredients, working with materials which are able to be recycled. All that helps. We all do our best to make it better.