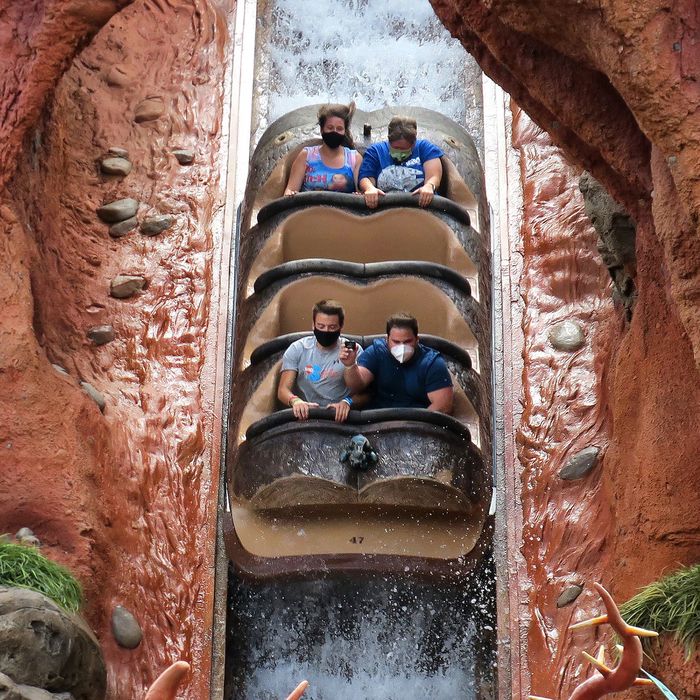 Photo: TNS via Getty Images
Let's check in on how Disney World is doing, five months after it reopened its gates to the public during a massive spike in COVID-19 cases in Florida. When it reopened, Disney announced an array of new safety measures: Parks would operate at limited capacity and all guests over the age of 2 were required to wear masks; plexiglass partitions and hand-sanitizing stations were installed throughout, and guests who were not wearing masks on rides would not receive their pictures afterward. Well, unless a mask was Photoshopped on, of course.
A new report from WDW News claims that some ride photos are being "enhanced," with digital face masks being placed over the faces of mask-less riders. One example of this practice seems to be a picture posted by a member of the Disney World Junkies group on Facebook this week, which appears to show a ride photo from Disney's Animal Kingdom Ride, Dinosaur. While the people in the front row are all wearing masks, a rider in the back row seems to have had a black mask somewhat clumsily Photoshopped onto their face. (You can see the picture yourself here.) The mask is just a little too big and a little too crooked to look real.
While not enforcing a policy aimed at keeping guests safe certainly seems questionable, WDW News seemed to think the whole thing was a pretty good idea:
Not only will these new digitally applied face masks allow for guests to enjoy their full PhotoPass benefits, but it will also encourage compliance, reducing the "monkey see, monkey do" thought process that may lead guests to erroneously believe it's okay to remove their masks while on attractions.
Hm. That's one way to look at it. Disney itself has not confirmed whether it has been altering photos. In the meantime, if you plan to visit Disney World during a devastating global pandemic, maybe just keep your mask on for now. Then you can try editing the mask out of the picture after if you really want.