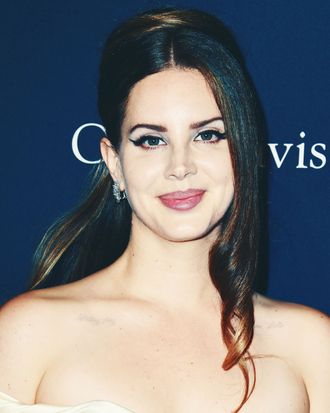 Lana Del Rey.
Photo: Jon Kopaloff/Getty Images
Well well well, let's see what story the celebrity publications are telling us today. Ah, it seems that Lana Del Rey is … engaged? To one "Clayton Johnson"? While this sort of development would make sense in Lana's character arc — breaks up with influencer-cop boyfriend, then gets quietly engaged to some guy named Clayton Johnson less than a year later — it'd still be relatively shocking. Let us begin our meticulous review of the reports.
It appears speculation started to mount on Monday, when Lana performed a new track on The Tonight Show, and some observant fans spotted a big honking ring on her finger. Then came the predictable flurry of exclamatory Tweets: "Lana is engaged omg," "Y'all see that?" next to a close-up photo of the ring, and on and on. Apparently, this wasn't the first time the rock sparked rumors. On November 18, @cinamonslut tweeted a photo of Lana wearing what is undeniably a rocky engagement ring, alongside, "The ring on her finger? Is she engaged?" Another eagle-eyed fan spotted the rock way back on Halloween.
Are we really to believe that Lana been secretly waltzing around as an engaged woman for, what, as many as six weeks now? Well, after Lana's performance sparked rumors, People and Us Weekly reached out to their sources, and the insiders say the rumors are true — and that the engagement isn't new. While neither Lana nor "Clayton Johnson" have yet to speak to the reports, and it's unclear how the unnamed sources know either member of the couple, it seems like Lana is, indeed, a fiancée.
Now onto our next matter: Who is Clayton? Many publications are simply referring to him as a "singer" or "musician." A more evocative descriptor is: member The Johnsons, a seemingly inactive YouTube cover band comprised of Clayton and his two brothers, Chantry and Connor. ("Three brothers making music!" reads the bio on their YouTube page.) Anyway, according to People, he and Lana connected on a dating app sometime in the past year, and the rest was history. They seem like a nice fit, and we wish them well.