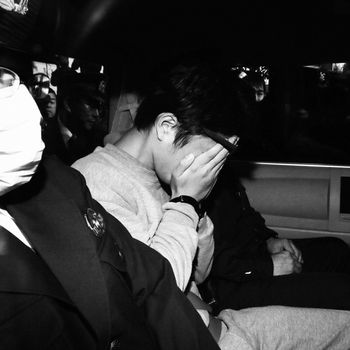 Takahiro Shiraishi.
Photo: STR/AFP via Getty Images
A man dubbed Japan's "Twitter Killer" has been sentenced to death for strangling and dismembering nine people, most of whom were young women who had expressed suicidal thoughts on social media, the New York Times reports. While capital punishment is relatively rare in Japan, the Tokyo District Court ruled that the "extreme seriousness" of the crimes committed by the man, Takahiro Shiraishi, 30, warranted the death penalty.
In late 2017, when a 23-year-old woman disappeared shortly after tweeting that she was seeking someone to kill herself with, police officers found themselves at Shiraishi's apartment in Zama, southwest of Tokyo — which Japanese media would later describe as the "house of horrors." Inside, officers discovered cooler boxes and other large containers filled with various body parts from eight women and one man. Shiraishi did not attempt to hide his crimes, and on October 30, he was arrested.
Shiraishi would later confess to investigators that he killed nine people between August and October and that he was ultimately driven to crime after arguing with his family. Shiraishi began stalking lonely young women and teens who were struggling with suicidal ideation, and lurked numerous related hashtags, including one that translates to "I want to die"; he also, according to prosecutors, tweeted statements like "It is not hard to hang oneself" and "If you cannot help yourself, I can help you." Once he had identified victims, Shiraishi would lure them to his apartment and drug, sexually assault, and murder them before dismembering them. Two of his victims were teens, ages 15 and 17. Shiraishi also killed a male friend of his first victim, whom he feared suspected him.
During Shiraishi's trial, his defense lawyers tried to argue that their client deserved a more lenient sentencing because he had simply assisted his victims' suicidal wishes, but Shiraishi himself disputed that narrative. "Not a single one of my victims consented," he told the judge. In October, when he pleaded guilty — at which point he was expecting the death penalty — he stated that he would not be appealing his sentencing. He showed little remorse in court, saying, "If they hadn't caught me … I would regret nothing." Shiraishi told one of his attorneys that his trial had already caused his parents enough agony.
As Judge Naokuni Yano expressed at the sentencing, the case has also caused widespread "shock and anxiety" in Japan and sparked conversations around the country's suicide rate — which is the highest among industrialized nations — as well as society's reliance on social media. "It is extremely grave that the lives of nine young people were taken away," Yano added. "The dignity of the victims was trampled upon."
In the U.S., the National Suicide Prevention Lifeline is 1-800-273-8255.