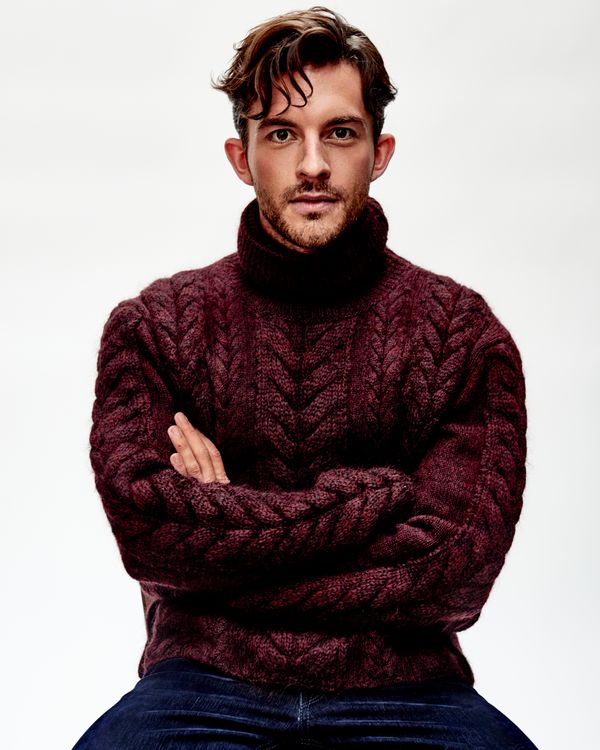 Talking to Jonathan Bailey is a lesson in charm — he's personable, super-handsome, and utterly hilarious. The 32-year-old actor brings a lot of that charisma to his role as Anthony Bridgerton, the seemingly straitlaced eldest brother in Netflix's first Shondaland original, Bridgerton. Based on the Julia Quinn novels of the same name, the TV series dives into the competitive nature of Regency-era society, in which Bailey's character has to navigate his duty to his family as well as his own desires.
But Bailey is used to exploring his desires in his television roles — he jokes that he even has a "dodgy sex scene" with Phoebe Waller-Bridge on Broadchurch. Besides Broadchurch, Bailey has starred in many other British TV series, including Doctor Who and early shows from Waller-Bridge and Michaela Coel, Crashing and Chewing Gum, respectively.
The Cut talked to Bailey about Anthony's mighty mutton chops, his bottled-up emotions, and changing up period-drama conventions.
I think Bridgerton will be a very welcome distraction for people — it's gorgeous, a Shondaland show, and totally fun. 
Something about the genre of period drama feels so quintessentially British. So how brilliant is it to have this sweet collaboration with America? I already knew, of course, about the juggernaut that is Shonda Rhimes and the cultural significance of her. I also knew how visibly diverse and inclusive her casts are and how she can flip any genre on its head. That's exactly what you need for a period drama, which has otherwise been whitewashed and very heteronormative. I was chuffed to see that it's not just about chasing the one kiss at the end. If you see bottom first, it's a good sign that Shonda is firing on all cylinders.
I mean, all cylinders include the sets, the costumes, your sideburns. 
They are real, baby. I fertilize them every day like a bonsai tree.
Your character, Anthony, is the man of the house, a role he had to take on after his father died. He's looking out for the family — in particular, for Daphne as she pursues a suitor — and adhering to tradition for their lives. But at the same time, he has his own daddy issues and doesn't seem to want tradition for his own life. 
Talk about trying to bring a therapist back to the 1800s. [Laughs] He just seemed to me as someone who is incredibly lost — a real searing portrayal of how the patriarchal system is just completely ridiculous, when this boy lost his father and within the same 24 hours then became the head of the family. He suddenly has to become a surrogate husband to his mother and a father to his siblings. Those pressures he has I didn't want to shy away from. It's really important to see these men treading water and gasping for air. He's completely ill equipped by society and the privilege that he is born within to be able to empathize and to be able to voice what's really going on. He's on the brink, and that's quite exciting to play.
Anthony has a secretive relationship with Sienna [Sabrina Bartlett], who is an opera singer and not part of the upper class, which makes their relationship complicated and, at times, volatile. What was it like portraying their relationship, from both the emotional standpoint and the sexual one? 
We worked with an intimacy coordinator, which — I can't believe there was ever a time when they didn't exist. You can really create a narrative around sex because people don't just have sex in one way. With Anthony and Sienna, there's a real shift in that by the end; she has dominance over him.
There's a lot of sex in this show. I think it might be hornier than Normal People, which is kind of crazy to me. 
I feel like I've just been given a badge of honor. I don't think horny is the right word, though. It is horny, but it's also romantic, bruising, and intimate.