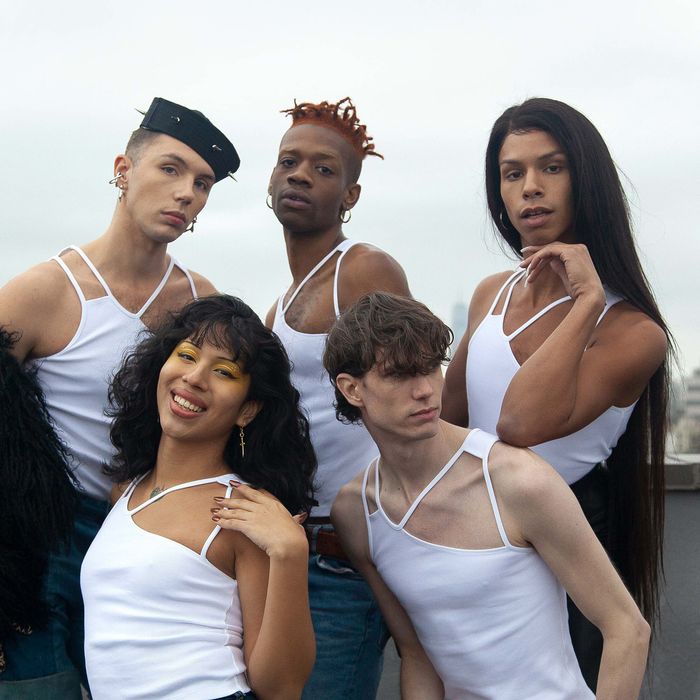 A white tank top doesn't have to be relegated to a wardrobe basic, layered under another shirt or paired with jeans like an off-duty '90s model, let alone be solely worn by ripped action heroes. On the contrary, it can be the subversive star of an outfit. That's exactly what Kingsley Gbadegesin believes. In the middle of a pandemic and a historic fight for racial equity, the Brooklyn-based designer launched his eponymous tank top brand, K.ngsley.
Gbadegesin's political work began as a member of On the Ground, a grassroots organization by Black and queer people that organizes candle vigils and supports protesters at Black Lives Matter movements. Now, Gbadegesin combines fashion and political statements with K.ngsley. Everything he does is for his Black, queer, and trans communities — which have seen unprecedented amounts of discrimination and violence this year. Proceeds from his drops are redistributed back to organizations that benefit those communities. Now, four months after the brand's launch, the meaningful tanks have caught the eye of fashion insiders like Harling Ross, Alyssa Coscarelli, and Teddy Quinlivan.
K.ngsley's tanks are inspired by New York City's nightlife culture. They're one part sexy and one part badass, with open backs, asymmetrical straps, and curvy dangling hemlines. One white tank top, called "FIST" (Fun Is Still Transgressive), stands out in particular. Gbadegesin made a prototype last year while hurriedly finding a going-out top before a party called "Fist" in Brooklyn. He took scissors to a plain white tank, and the result was a revealing cutout tank that's now a hot item.
Below, shop the K.ngsley FIST tank.