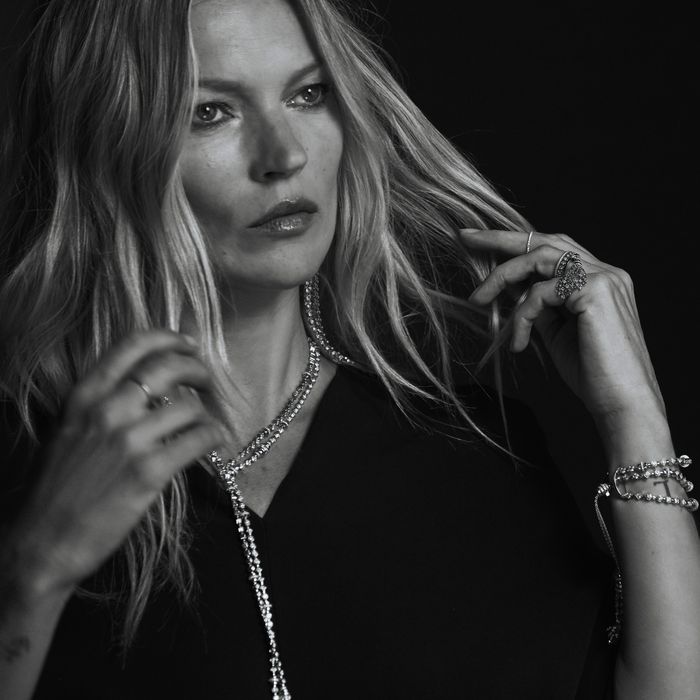 Photo: Courtesy of Messika/2019
Of all the things that have been said about Kate Moss's style over the years, her taste for jewelry is not often at the top of the list. But the world's most famous supermodel has been an avid collector since she was a teenager, and a new collaboration with the French jewelry brand Messika has allowed her to put her trained eye to good use — and add another paragraph to her endless résumé.
It all began two years ago, when Messika founder Valérie Messika met Moss at the Ritz in Paris. "I noticed she was wearing a lot of jewelry, and I was curious to know the stories behind her jewels," Messika told the Cut. "That's when I discovered that Kate was obsessed with jewelry, particularly high-jewelry pieces." She took a chance and asked Moss if she would like to co-design a high-jewelry collection, and the rest is history.
The design process took about a year, with several meetings in person and some virtual ones, too. Mood boards were sent back and forth. "It was an exciting creative challenge to entwine Kate's personal tastes with the key codes of [the brand]," Messika continued. "She told me about moments in her life through her jewelry — her memories, moments of difficulties, moments of happiness — and it was great listening to her as a jewelry storyteller. We were both incredibly proud of what we worked so hard to create together."
"There weren't any limitations set by the design team at Messika," Moss said. "I had freedom to create something I really love." Her favorite pieces in the collection are a white-diamond necklace inspired by stained glass, and an Art Deco–inspired golden bracelet. You can now see them up close at the new Messika store, which opened at Hudson Yards on Monday.
In keeping with her famously effortless cool, Moss described her approach to jewelry as mood based. "So it's always changing," she told the Cut. It even changes with the weather: "In the summer, I go for a more '70s vibe, layering long necklaces and bangles," she explained. "And for winter, I wear more statement pieces, like big earrings."
And as for the jewelry she wears during a global pandemic? Well, let's just say it hasn't stopped her from dressing up.