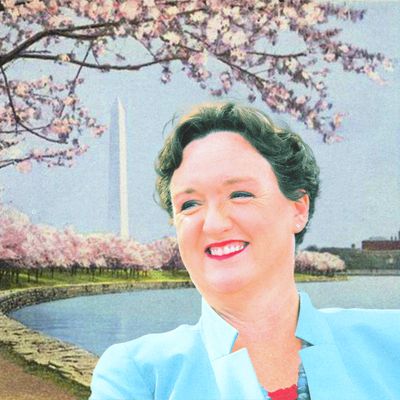 Representative Katie Porter.
Photo-Illustration: by The Cut; Photos: Shutterstock, NYPL
In our new limited series "How I'll Get It Done," rising progressive stars tell the Cut how they plan to fight for a better future.
Like many of the wins in the 2018 midterm elections, Representative Katie Porter's was historic. As long as California's 45th Congressional District had existed, no Democrat had ever occupied the Orange County seat — until Porter, a former law professor and single mother of three young children, won it on a progressive platform. She campaigned as a champion of policies like Medicare for All, and promised to hold "the powerful special interests in Washington accountable." Less than two months after she was sworn into Congress, she was already making CEOs squirm.
During her congressional tenure, Porter has solidified a reputation as an incisive interrogator who can eviscerate powerful figures with ease during House hearings, whether they be a Trump official, a pharmaceutical exec, or Mark Zuckerberg. The exchanges are exhilarating, and often go viral: Wielding her signature whiteboard, Porter will address her target as a professor might a student, challenging them to define terms they ought to know and inviting them to clarify their stances to the public. And her approach is effective. The day after the World Health Organization declared the coronavirus a pandemic, she exacted a guarantee from the CDC chief to pay for COVID-19 testing; this summer, she got the embattled postmaster general to reveal how little he knows about the organization he oversees (damningly, he had no idea how much it costs to mail a postcard).
Ahead of Porter's second term, during which she'll be serving as deputy chair of the Congressional Progressive Caucus, the Cut caught up with her over the phone to discuss what she hopes to accomplish first, how she approaches congressional hearings, and why we need to be talking more about the mass exodus of women from the workforce.
In a recent interview with Elle, you spoke very candidly about what life has looked like for you amid the pandemic, and how, unlike some of your colleagues, you don't have luxuries like a home office or a Peloton. Instead, you've been working out of your kitchen and, during your "down" time, taking care of your children. How does your experience impact how you do — and think of — your job?
Every elected official brings their own perspective, and mine is as the only single mom of young children in Congress. And I see statistics. For example, 22 percent of women have left the workforce since the start of the pandemic, and one in four women are considering doing it — and I understand why. My three children have been home a great deal during this time, and even now, with them enrolled in public school, there are still very few minutes each week that they're all in school at the same time due to safety precautions.
In the broader population, there are millions of moms and dads and others who are raising young children and trying to deal with the fact that a lot of child care has closed down or has become less available. There's a chronic underinvestment in child care and support for working families, and we're seeing that play out in the pandemic.
There's long been a belief, often held by Establishment Democrats, that moderates are more effective than progressives at winning over swing or conservative voters. Meanwhile, you've won your district twice on a progressive platform. How do you approach being a progressive in a historically red district?
The real problem in our country is a lack of trust and confidence, by Americans of all ideological beliefs and parties, in their government and whether it's working for them. That's one of the reasons I devote a lot of time to oversight. Congress has a duty to oversee the executive branch and to make sure we're being good stewards of government tax dollars, and I think that's a particularly important responsibility for a progressive. For example, if we're arguing for an expansion of universal child care, we need to also be saying that we're going to do the work to make sure those child-care dollars are going to be spent effectively and efficiently to actually deliver help to families.
I think it all comes down to how well you communicate with your constituents that you're working on their behalf. In a divided government like we have — with a Senate that wasn't picking up bills, much less passing them — relying on traditional things like legislative wins wasn't as effective. One of the really important things is that you're able to listen really, really well to your constituents, and that you're able to communicate back honestly.
In congressional hearings, you're known for holding the feet of some of the most powerful CEOs and executives to the fire. How do you prepare yourself for these tense exchanges?
There's definitely a lot on the line in those hearings, and I feel that. I only have five minutes, and no do-overs, so I really have to put in the work to know the subject and to feel comfortable. I think asking the questions with a kind of quiet confidence puts pressure on witnesses to reply and give a real answer. One of the things I try to remind myself is that the most important person in the hearing room isn't me: It's the witness. My job is to put the questions to them, and it's their job to give honest and full answers. It's not about hearing yourself talk; it's about getting answers for the American people.
I was a professor before I came to Congress, and I didn't go into the classroom without a lesson plan. And yet, there were definitely moments when I walked into the classroom and I still felt a kind of adrenaline. You really have to bring all of your mental focus and energy. People often ask me what I'm thinking about when I'm asking questions in a hearing, and it's nothing. I can't see or hear anybody else except the witness in those moments. So I often don't have any sense of how other people are reacting to the questions.
I've even had Republicans text me after my hearings and say, "What you said was really interesting. Why do you read the law differently from Secretary Steve Mnuchin? I want to understand your perspective." And that's progress. That's helping convince them that you're doing the work, that you know what you're talking about, and that helps open all kinds of doors.
What inspired you to start using a whiteboard, which has become a signature prop of yours?
I see the whiteboard as a tool to help both the witness and those in the audience stay focused, which is exactly the way I used the whiteboard in my classroom. If the students were not following, or I thought there were too many details, or the subject was really complex, I would turn to the whiteboard and try to map out what I was explaining. It also helps convey to the witness that you know what you're talking about and that you've done the research, so there's no room for waffling here; and it helps Americans who are watching later to follow along, because they probably haven't watched all four hours of the hearing, nor should we expect them to do that.
The progressive flank in Congress is about to get bigger. Do you anticipate this will affect the nature of the relationship between moderates and progressives?
To be honest, I really don't think about it in this frame, which is why I'm having a hard time answering this question. When I approach an issue, I try to really focus on who would've had this life experience, who would understand what's at stake here, and who really leads on this issue. It's irrelevant to me what caucus a representative is in, or even what party they are. If they want to do the work to help the American people, then I want them to be a partner.
Recently, for instance, I was interested in an issue regarding a toxic chemical, so I looked up who would be the appropriate subcommittee chair to approach, which happened to be somebody with whom I have a good relationship, and I sent them an article on the chemical, and asked to schedule a follow-up conversation. Or, if I'm focusing on an issue that affects a representative where they are geographically, I might work with them on it. I've also had great collaborations with representative Jaime Herrera Beutler, who's also a mom of three, on bills to protect families from getting hit with surprise medical bills for newborns.
In the media, I see reporters who glom on to each of the leaders of the different ideological caucuses when they walk off the House floor. But back home, people want to talk about health care, wildfire prevention, why they haven't gotten their economic-impact payment, or the size of the military budget.
What do you think is the single most important thing Congress needs to accomplish in January?
First and foremost, we need to get the pandemic under control. We must reestablish trust in government officials and scientists, so we need to do a lot of work to make sure that people believe that the vaccine has been safely vetted, that distribution will be fair and equitable, and that it will be affordable. I worked really hard at a hearing in March to secure a promise that COVID-19 testing would be free, but free on the ground has meant a lot of different things — everything from walking in to get a test and never being asked about insurance, to having to use your insurance and having your claim denied. I think there are some lessons from that reality that we can apply to vaccines.
On a broader level, we're in an economic recession, and we can't exactly predict how we'll come out of that over time. However, I think we need to use the sheer number of women who have exited the workforce, and the overall effect that the pandemic has had on women's work, to drive home why investments in child care are investments in economic growth or even global competitiveness. The U.S. really lags behind in policies to support families, so that's at the top of my agenda. I've been heartened that President-elect Biden has made child care one of the pillars of his Build Back Better platform, and we're starting to see people talk about child care as infrastructure. Just as you take a road to get to your workplace, child care is infrastructure that allows people to work.
Do you ever allow yourself time to recharge, or spend time doing non-work-related activities you enjoy?
I like to do lots of things, but I don't get to do many of them. Every second that I'm not working, I really feel the need to be with my kids. As a single parent, there's a lot to be done to keep up with their schoolwork and communicating with their teachers and making sure they make their doctors' appointments. So, generally speaking? I don't rest.
This interview has been lightly condensed and edited.