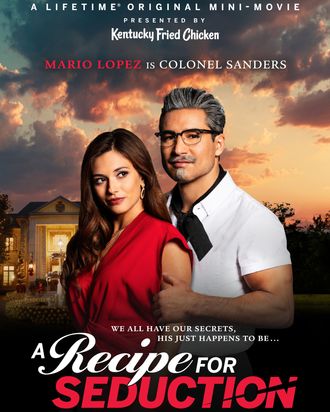 The aptly-named, "A Recipe for Seduction."
Photo: Hand-out/KFC
From the brand that brought us fried chicken–perfumed fire logs comes yet another baffling holiday gimmick that has further severed our tenuous grasp on reality:
On Monday morning, Kentucky Fried Chicken announced that it has conceived of "the perfect distraction from all things 2020": an original Lifetime "movie" about a "steamy holiday love affair" between Colonel Harland Sanders, played by Mario Lopez, and a "young heiress." While said heiress is meant to marry a suitor selected by her mother, those "devious plans" begin to unravel after she meets the strapping Colonel, who possesses both "a secret fried chicken recipe and a dream." What ensues in A Recipe for Seduction's 15-minute running time, according to a news release, is replete with "mystery, suspense, deception, [and] fowl' play" — and presumably, lots of fried poultry. An executive at A+E Networks, which encompasses Lifetime, went so far as to describe the movie as a "spicy tale," premiering on December 13 at 12 p.m. ET.
Of course, A Recipe for Seduction is little more than a glamorized commercial, unleashed onto the world to boost KFC's sales. To maximize the "deep-fried holiday romance" experience the company recommends that viewers get KFC delivered through Uber Eats; if you order at least $20 worth of food, the company further entices, you can get "six free extra crispy™ tenders" for free.
What a shame the company's fried chicken–scented fire logs have yet again sold out for the year — would've provided a fitting ambience to the viewing experience.