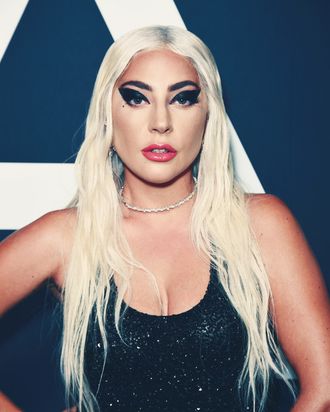 Lady Gaga wearing Haus Labs makeup and unknown skincare.
Photo: Presley Ann/Getty Images for Haus Laboratories
Remember when everyone was like, Is Rihanna launching skin care? And then she did? Well, thanks to a recent Instagram post, Lady Gaga, another artist-turned-beauty brand founder, is now under similar speculation.
Mother Monster has spent the last year and change expanding her Haus Labs line of color cosmetics, but a lot of you must have been asking about her skin-care routine, because yesterday, she posted one of those celebrity face-posing videos. Rather than showing off her makeup, as people in these hypnotizing clips usually do, she covered the entire look with a festive, wintry filter and detailed her thoughts on #skincare instead.
Rihanna's skin-care secret is Barbados cherry, J.Lo's is olive oil, Pharrell's is exfoliation, and apparently, Gaga's is leaving her skin barrier and microbiome free of disruption with "solutions that balance my skin by interrupting any inflammation caused by free-radicals or products." A technical regimen wouldn't be the most random thing she could create — it has a whimsical yet science-y tinge to it that would go well with Haus's laboratory vibes.
Though Gaga notes she uses "products I develop … exclusively for me," she doesn't seem like one who'd be stingy; I'm sure she'd share. As a refresher, the original Haus trademark filing did include facial cleansers, toner, scrubs, moisturizer, masks, body oil, face wipes, and sunscreen, in addition to all the color cosmetics stuff.
The comments from the Haus Labs Instagram account are perhaps the most telling: one is simply the eyes emoji, and the other states, "We love a queen that does it all." Keep in the mind the last time Gaga launched something a little out of her wheelhouse, she was similarly lying down, kicking it on Instagram, casual as hell. We could very well be getting some Gaga serum to wear in the new year while we inhale the pink and green Oreos.