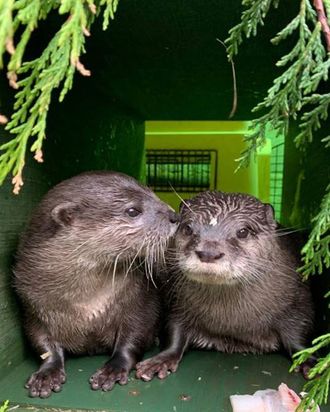 Pumpkin and Harris.
Photo: SEA LIFE Scarborough
In late September, following the untimely death of his life partner, an Asian short-clawed otter named Harris was "absolutely lost." Though he tried experimenting with a "bachelor lifestyle" at the Cornish Seal Sanctuary, his caretakers quickly noticed he was clearly missing companionship, prompting them to make him his own online-dating website. It wasn't long before he got a hit from another aquarium in the U.K., SEA LIFE Scarborough, whose otter Pumpkin was also "extremely lonely" following the death of her mate. The sanctuaries knew they were taking a risk, but Pumpkin and Harris seemed a match made in heaven; the last we heard, Harris was making the 400-mile-long journey across England to meet Pumpkin.
It is with great excitement that we bring you a wonderful update to this love story: The Cut has received word from SEA LIFE Scarborough that the two widowed otters found the strength to open their hearts to love once more, and that things are going "swimmingly." In videos sent to the Cut, Pumpkin and Harris can be seen waddling about the sanctuary, emitting tiny squeaks as they attempt to squeeze between narrow pathways and climb up ramps, side by side. The couple has also enjoyed a series of "dates," according to the sanctuary, including a particularly romantic one pictured below, in which one otter gingerly laid a kiss on the other.
Because the otters have become inseparable, Harris will now be calling SEA LIFE Scarborough his new home, to the great delight of Pumpkin and her caretakers. "After an extremely sad period for both Pumpkin and the Animal Care team here at Scarborough, we are delighted to report that not only is Pumpkin happy once again, but Harris has settled in extremely well and has already become part of the SEA LIFE Scarborough family," said curator Todd German. While Harris's relocation is slightly bittersweet for the team at Cornish Seal Sanctuary, they're ultimately happy that sweet Harris can now be a doting partner to his new love.
"He is very much missed here at the Sanctuary," said curator Tamara Cooper, "but after everything Pumpkin and Harris have been through with losing their partners, it is the perfect fairy-tale ending for them to have found love again."