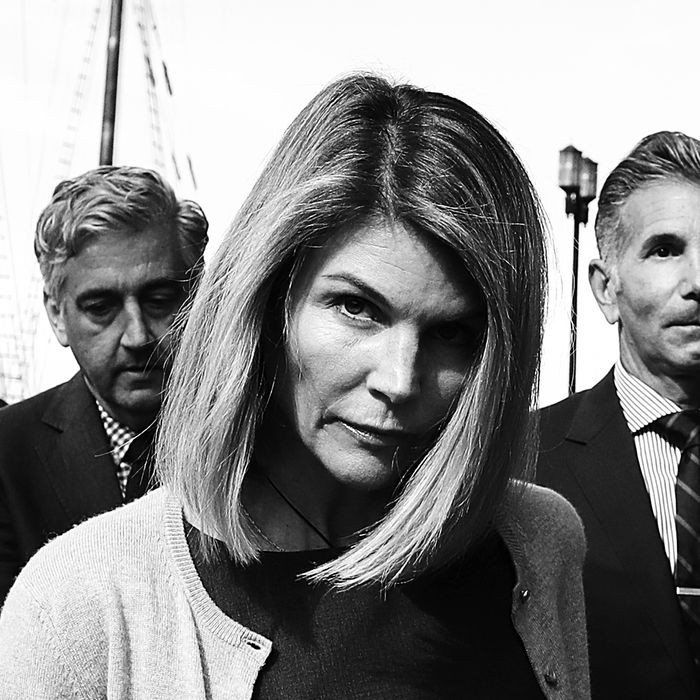 Actress Lori Loughlin.
Photo: Boston Globe/Boston Globe via Getty Images
In late October, Lori Loughlin checked into a low-security federal correctional facility in California to start a lenient two-month prison sentence for her involvement in the sweeping college admissions scandal that rocked the nation nearly two years ago. Well, (nearly) two months have passed, and now it appears Loughlin is headed home: According to one of People's "legal sources," the disgraced Full House actress was released early Monday morning.
Loughlin's past few years were certainly not among her best. In March 2019, the beloved "Aunt Becky" abruptly fell from grace when the Justice Department accused Loughlin and her husband Mossimo Giannulli of paying $500,000 to falsely portray their daughters — vlogger Olivia Jade Giannulli and Isabella Rose Giannulli — as exceptional young rowers to secure their acceptance to the University of Southern California. (Neither daughter rows.) While Loughlin and Giannulli initially pleaded not guilty to the charges against them, conspiracy to commit fraud and conspiracy to commit money laundering, Loughlin later changed her tune after other wealthy parents implicated in Operation Varsity Blues were handed prison time. This past May, she and Giannulli both pleaded guilty to conspiracy to commit wire and mail fraud, and Giannulli pleaded guilty to an additional count of honest services wire and mail fraud.
In August, after a judge approved their plea deal, they finally received their prison sentences: Loughlin, two months, and Giannulli, five months. On October 30, Loughlin checked into a federal correctional facility in Dublin, California; on November 19, Giannulli reported to a federal prison in Lompoc, where he's still serving his sentence.
Now Loughlin must get started on the 150 hours of community service she's required to fulfill upon her release. (According to court records, she has already paid her $150,000 fine). And if she is to take inspiration from her daughter, an apology tour may also be in the cards.