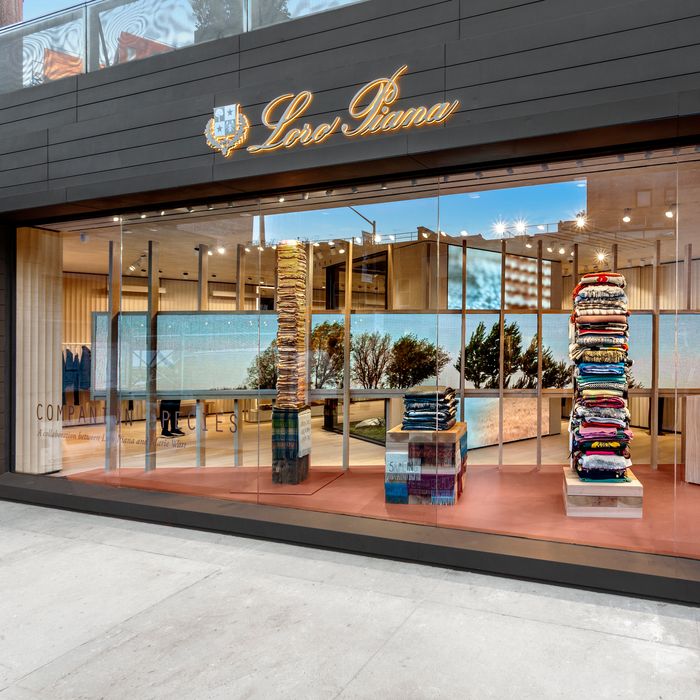 Back in the hazy days of 2019, Loro Piana opened a pop-up shop in the Meatpacking District as a 15th-anniversary celebration of their Open Walk sneakers. Now, the Italian brand is making the store, designed by Belgian architect Vincent Van Duysen, a permanent home.
The 1,700-square-foot establishment has been designed with a minimalist aesthetic in mind, employing neutral tones, simple furnishings, and tons of open space for events and artist collaborations in the future. It will also feature a glass garden that will change seasonally. The new location will carry the brand's full range of women and men's ready-to-wear and accessories, as well as home décor items. An array of services, including knitwear personalization, will also be available.
Loro Piana teamed up with Portland, Oregon-based artist and Seneca Nation citizen Marie Watt to bring a special installation to the store comprised of three blanket sculptures titled Companion Species: Acknowledgement, Blanket Stories and Generations. In each piece, Watt employs a different tactile material in order to embrace a certain aspect of one's lineage: bronze for acknowledgement, wood for generations, and blankets for stewardship and heirlooms being passed down from generation to generation. While Watt often features blankets in her work, Loro Piana also has a special connection, as they were one of the first products the label produced.
"I am drawn to Loro Piana's generational history and commitment to environmental stewardship," said Watt in a statement. "Relationships between people, animals and the land are intertwined, inseparable, and necessary for planetary resilience for future generations. I'm also intrigued by Loro Piana's community, which connects entities — growers, breeders, herders, artisans and staff — across continents to create ethically sourced fibers and exquisite garments that, over time, become beloved heirloom objects."
While Watt's exhibit is on display, the store will offer a blanket personalization service where customers can create their own unique blanket inspired by the patchwork textiles used in the sculptures. In conjunction with this, Loro Piana is working with Save the Children, a charity that works to improve the lives of children around the world. For every purchase made at the brand's U.S. and Canada stores, as well as online, one blanket of repurposed fabric will be donated to Save the Children. 
The store is now open at 3 Ninth Avenue and Watt's artwork will be on display until January 31.