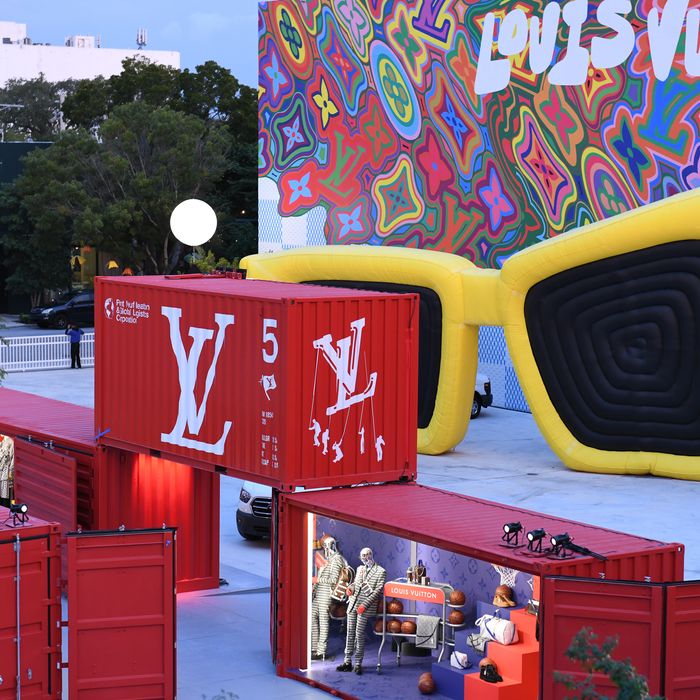 Photo: Louis Vuitton/BFA.com
Art Basel 2020 may have been canceled because of the coronavirus pandemic, but Miami's design district is still in business. The magic city has welcomed a new installation from Louis Vuitton Men's curated by artistic director Virgil Abloh. This temporary fixture follows several of Abloh's most creative pop-ups and installations, including the slime-green store highlighting the fall-winter 2019 collection.
The installation was unveiled last Friday and features designs from Louis Vuitton Men's spring-summer 2021 collection. The exhibit brings to life the world and characters featured in Abloh's animated film The Adventures of Zoooom with Friends, which first premiered at Digital Paris Fashion Week 2020. The short film follows a cast of animated characters hiding as stowaways in LV shipping containers traveling through Paris.
Located at Jungle Plaza, the outdoor experience includes larger-than-life balloons of Zoooom with Friends characters, bespoke LV shipping containers and sculptures, window displays of the collection, and a Snapchat augmented-reality experience. The event is open to the public, and guests will be able to preorder designs from the collection.
The curated experience will be on display in Miami until January 25 and will move on to Atlanta, Los Angeles, Las Vegas, and Mexico City.