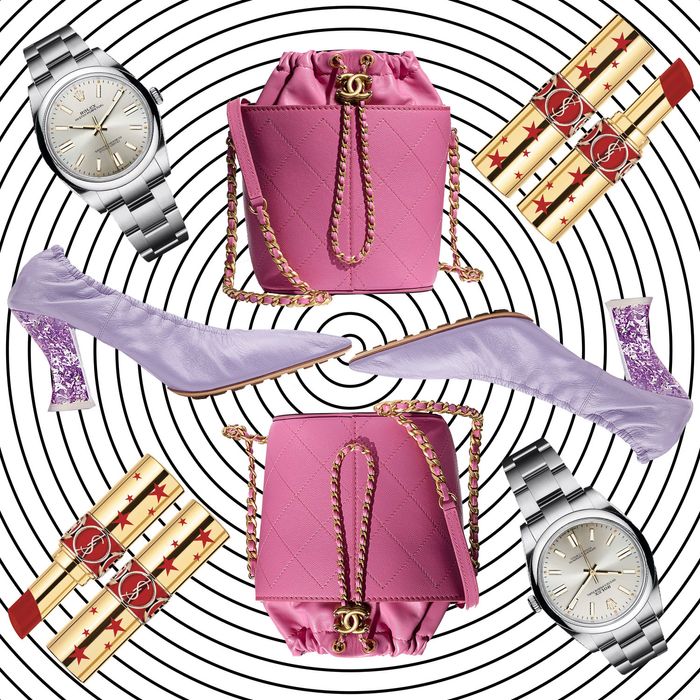 Photo-Illustration: Retailers
What do you get the person in your life who gets up at 5 a.m. to catch the latest Prada show streaming live? You know the type: They'll preorder the newest Bottega Veneta clutch, obsess over the latest designer news, and sock away money for the perfect vintage Rolex. In their honor, we're pleased to present the Cut's annual fashion-person gift guide, packed full of the most luxurious, over-the-top items from major brands. Even if you're just browsing, it's great eye candy. Scroll on for 43 of the season's best fancy things.
A Super-Luxe Bathrobe
Photo: Retailer
Wear this Versace bathrobe while daydreaming about your next trip to Miami.
The Most Indulgent Outerwear
Photo: Retailer
Three words: Teddy. Bear. Coat.
Cheeky Pajamas
Christopher Kane's More Joy pajamas aren't shy about demanding a better night in bed. Pair with a matching Sex sleep mask.
The Most Fun Shoes
Photo: Retailer
Party shoes for post-vaccine times.
A Hat in a Classic Print
Photo: Retailer
You can't go wrong with Burberry check.
An Iconic Bracelet
Elsa Peretti's elegant design celebrated its 50th anniversary this year, and it's still just as covetable.
The Gucci Lipstick Dakota Johnson Wore to the Met Gala
A Cute Bag With an Edge
Kawaii, but make it goth.
Cards for the Aspiring Magician
You can blame them for why your savings account went poof!
Boots for the Native New Yorker
Who else could pull these off?
Extra-Sparkly Lipstick
A Sweet, Ladylike Bag
A mini-bag that isn't too cutesy from Harry Styles's favorite brand.
Upgraded Hoops
Photo: Retailer
Who can say no to delicate diamond hoop earrings?
Everyday Boots
The snakeskin makes these feel a little more special, even if you're just wearing them to run errands.
The Opposite of Sweatpants
Shiny pink jeans with a dramatic zipper and a waistband that's decidedly not elastic.
Pajamas You Can Wear All Day
These silky pink ones would look especially good with a Champagne coupe in hand.
A Ring That Will Look Good Forever
Photo: Retailer
They'll wear this delicate ring every day, mixed in with their other heirloom finds.
Lipstick With a Blackpink Bias
A Cashmere Shawl
Photo: Retailer
Perfect for the world traveler.
A Slinky Pencil Skirt
Photo: Retailer
This latex skirt will take a little effort to get into, but it's so sexy that it's worth it.
The Ultimate Hair Styler
Photo: Retailer
This wildly popular styling tool is back in stock … for now.
A Bubblegum-Pink Bag
Photo: Retailer
For the Cher Horowitz in your life.
Sexy, Moody Candlesticks
A Multi-Shade Eye-Shadow Kit
Photo: Retailer
So you can create a really dramatic beauty look even when you're masked.
A Sharp Blazer
Photo: Retailer
Made with the brand's Re-Nylon gabardine, which is a nylon fabric that uses plastic trash from the ocean, this pleated jacket is the type of piece that'll make jeans look special.
The Most Sophisticated Hand Cream
A chic black egg-shaped container full of lotion.
A Print-Print Jacket
Photo: Retailer
For the person who became a news junkie in 2020.
A Collection of Scents
Photo: Retailer
If you covet Nicole Kidman's lifestyle on The Undoing (minus the drama).
For the Owner of a Bushwick Birkin
Socks from an Up-and-Comer
Photo: Retailer
Dedicated fashion fans know Marine Serre is the next big thing.
An Expensive Flex
Photo: Retailer
Logo-mania, but make it tasteful.
Night-Owl Perfume
Photo: Retailer
Because we all know someone who considers 11 p.m. to be early.
A Relaxed Shirtdress
Photo: Retailer
For the creative type with impeccable taste.
Luxurious Velvet Slippers
Photo: Retailer
Wear these Olsen-approved slippers at home or when you're out getting a jumbo coffee.
A Balm That Feels Like Butter
Photo: Retailer
Buy it for someone with an elaborate nighttime skin-care routine.
A Limited-Edition Andy Warhol Perfume
For the person who never got over the '70s.
A 'Your Lips But Better' Tint
Photo: Retailer
In a pretty, subtle shade of pink.
The Fanciest Soft Pants
There's nothing more luxurious than a pair of Louis Vuitton sweats.
Truly Indulgent Deodorant
Photo: Retailer
Cashmere for your armpits!
A Classic Power Accessory
Nothing says "I'm in charge" more than a classic Rolex watch.
If Their Favorite Hair Colorist Is in Paris
Photo: Retailer
The next best thing is this cult-favorite hair mask from Leonor Greyl.
High-End Jewelry With an Edge
A spiky sophisticated bracelet that has just enough bite for them.
For Anyone Who Loved the Clothes in The Queen's Gambit
Miu Miu made a capsule collection of reimagined vintage dresses that are one-off pieces. This swingy number is exactly what Beth would wear for a glamorous night out.
Upcycled by Miu Miu, 1960s ivory cocktail dress, one of a kind, $8,400 at Miu Miu, 57th Street.